Champion 7000w Portable Generator and Gasoline Storage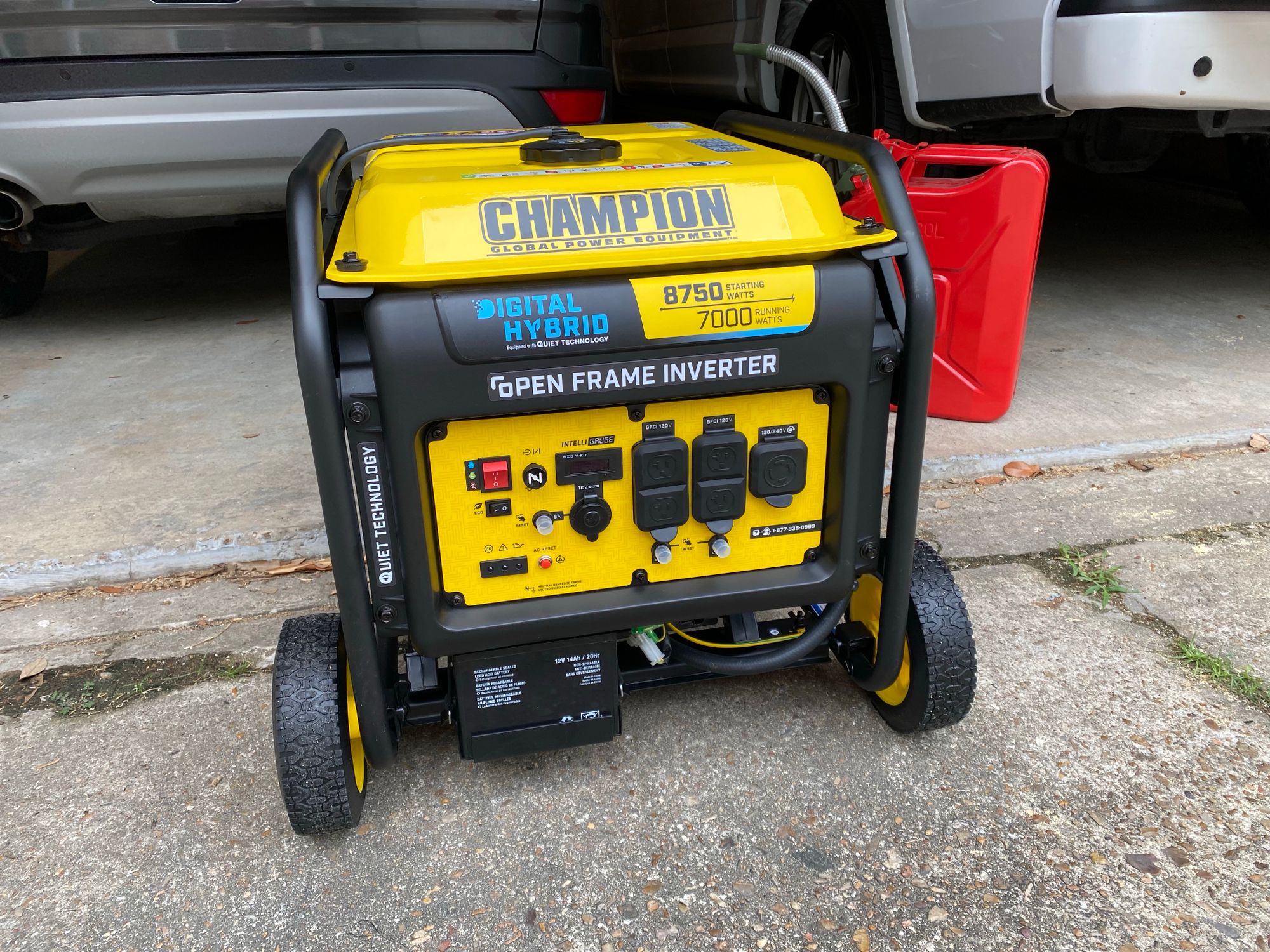 Here are all the details on my portable generator setup that can power my house in case of emergency.
A while ago I got all my electrical updated, read more below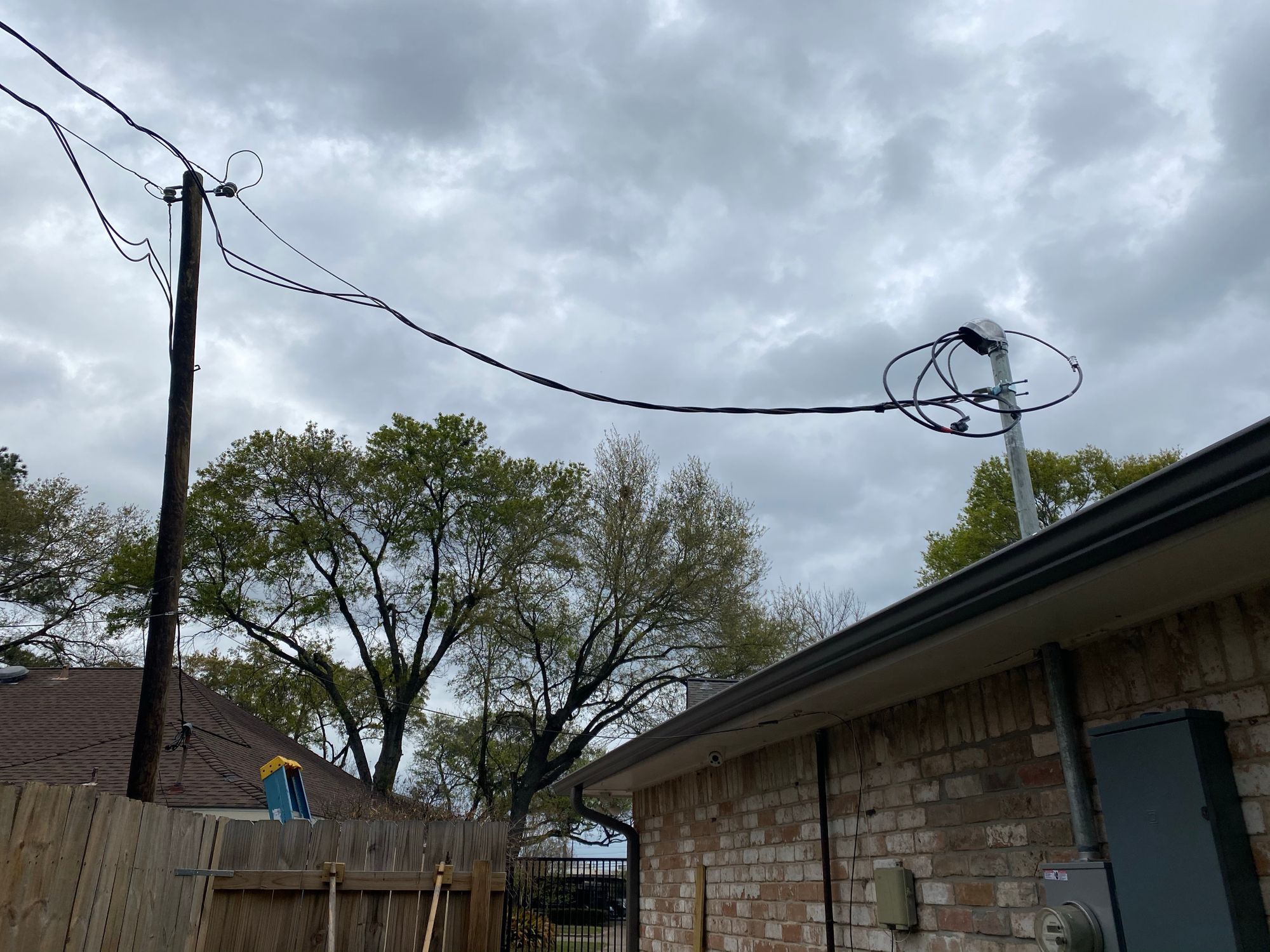 In that post you can see that before I had my large Generac generator installed, I got a power inlet added so I can power my home from a portable generator. Here is a link to the specific inlet. In my opinion this is the best inlet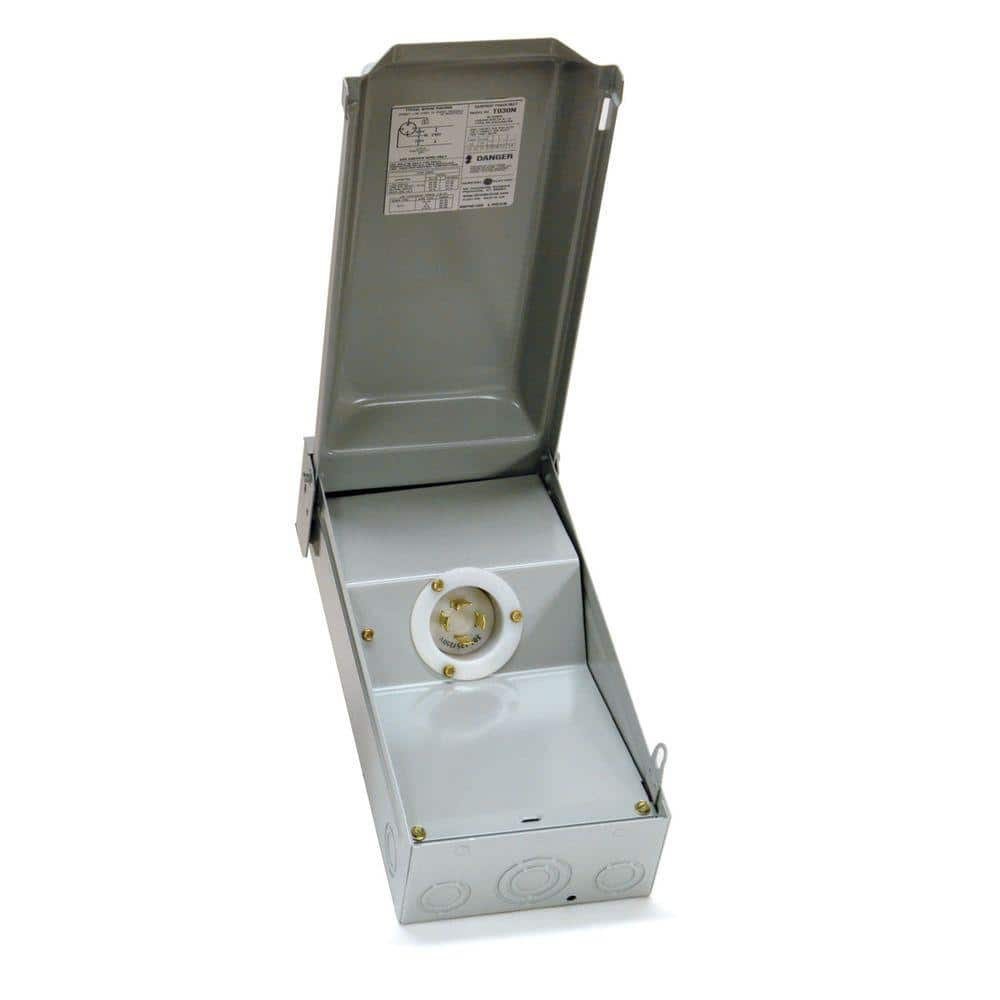 And here are some pictures of the inlet install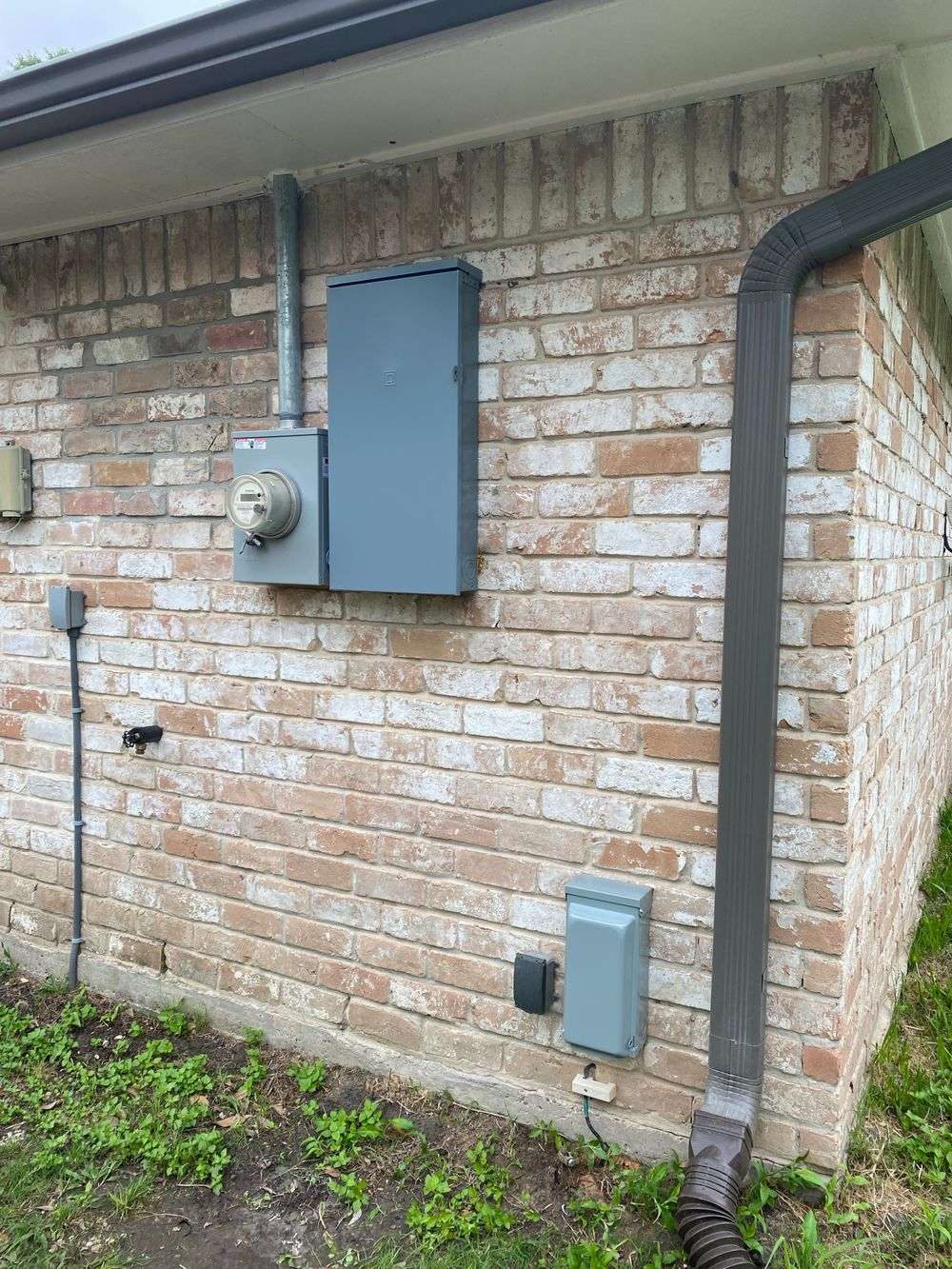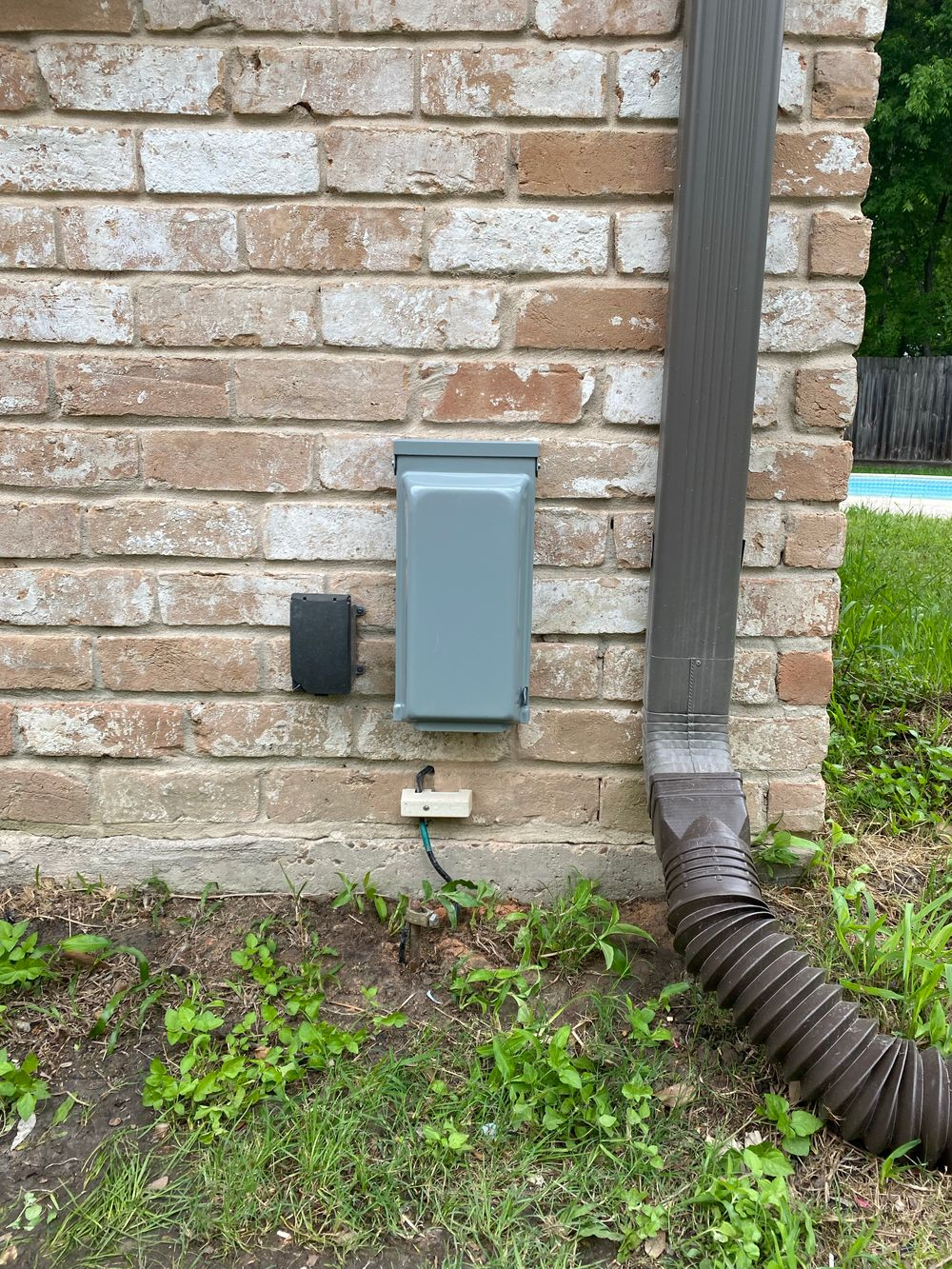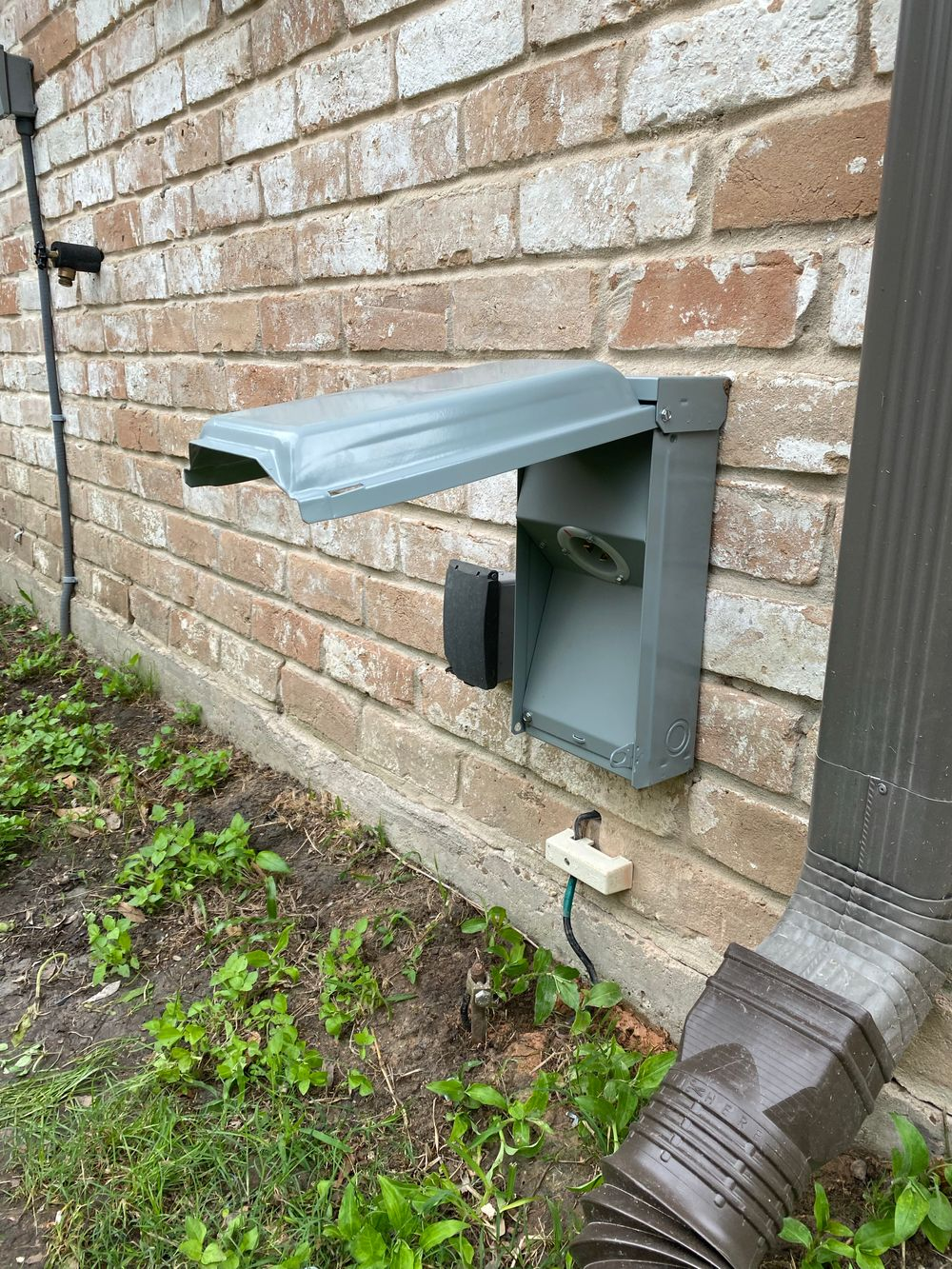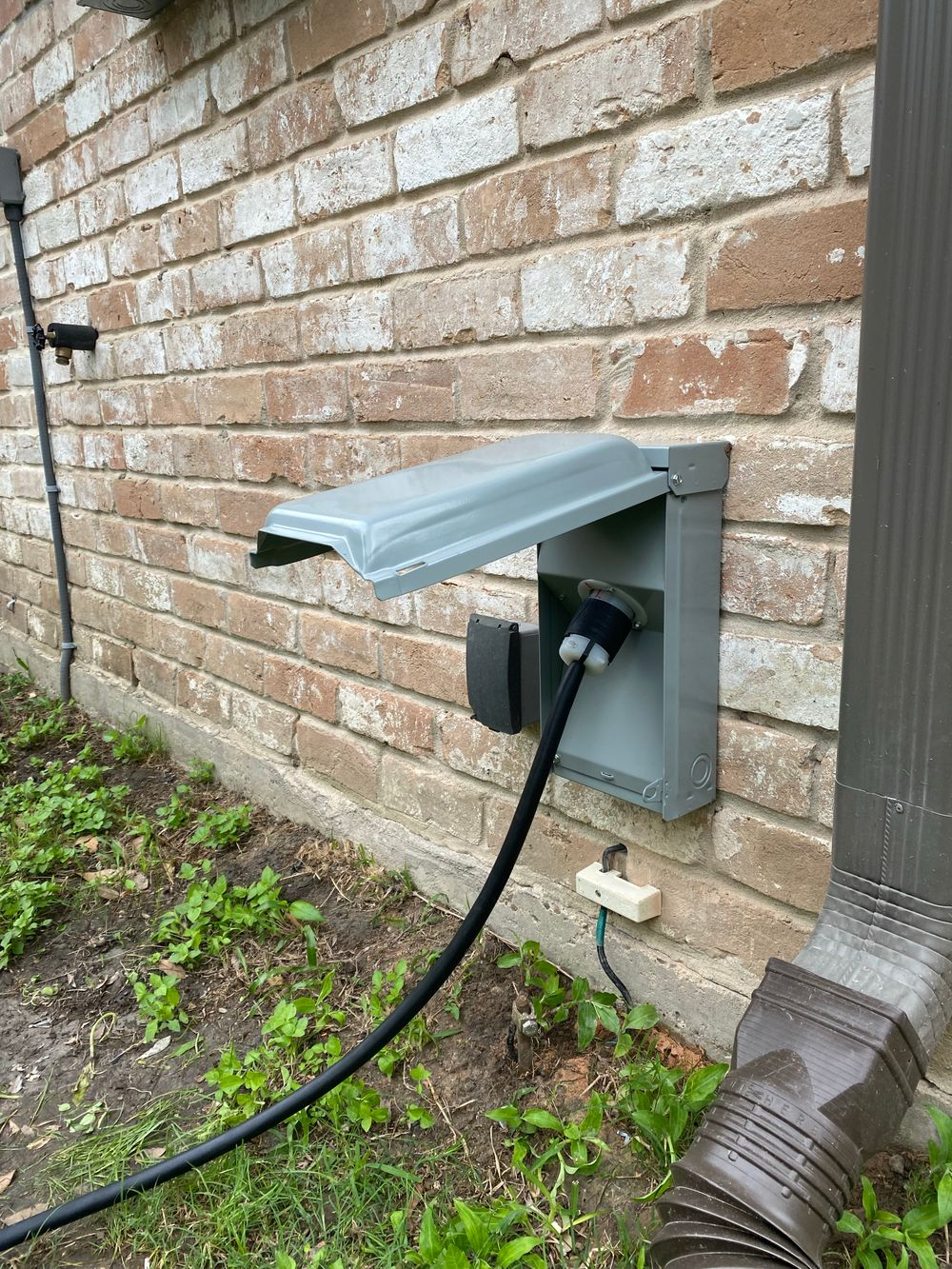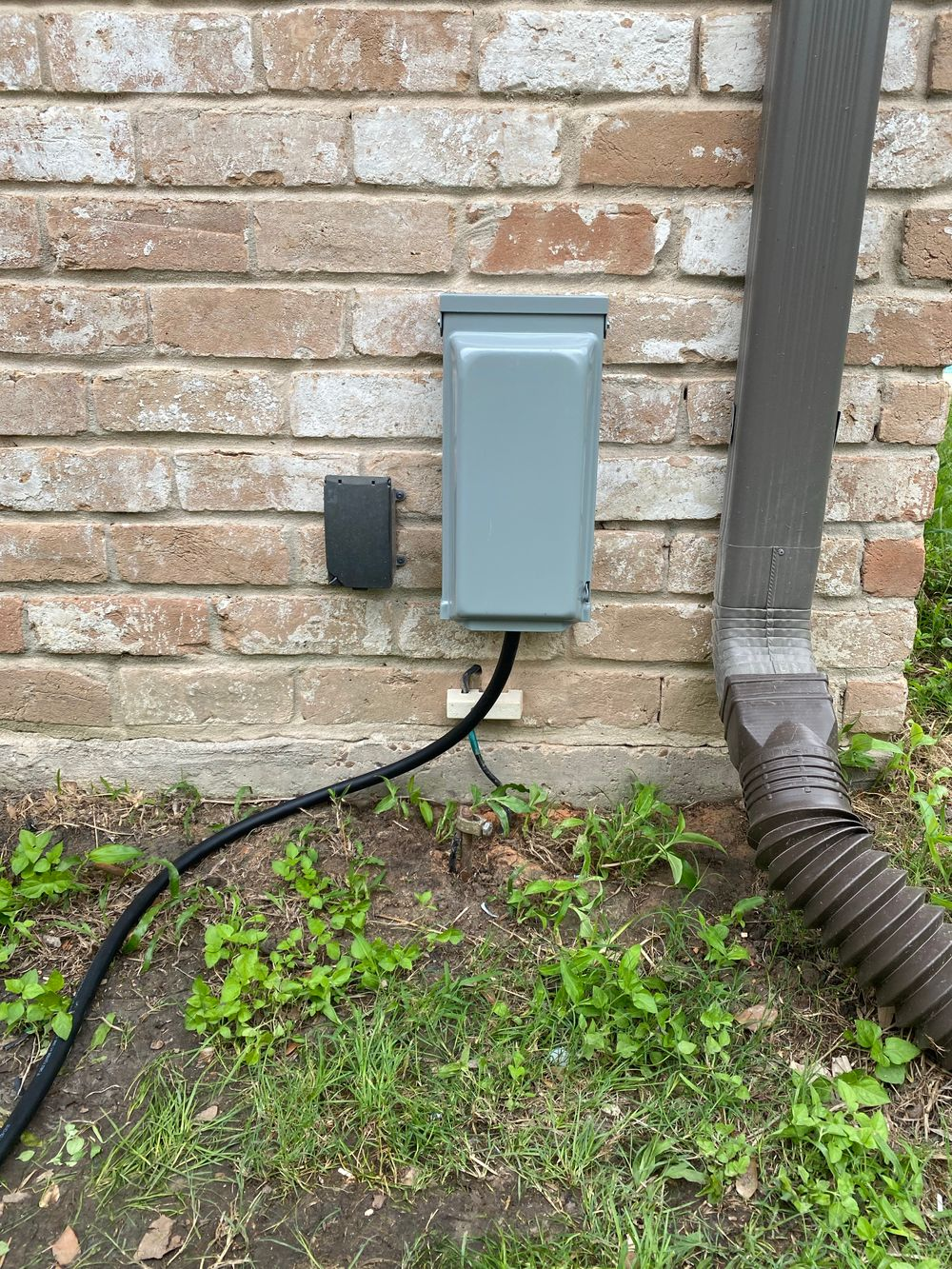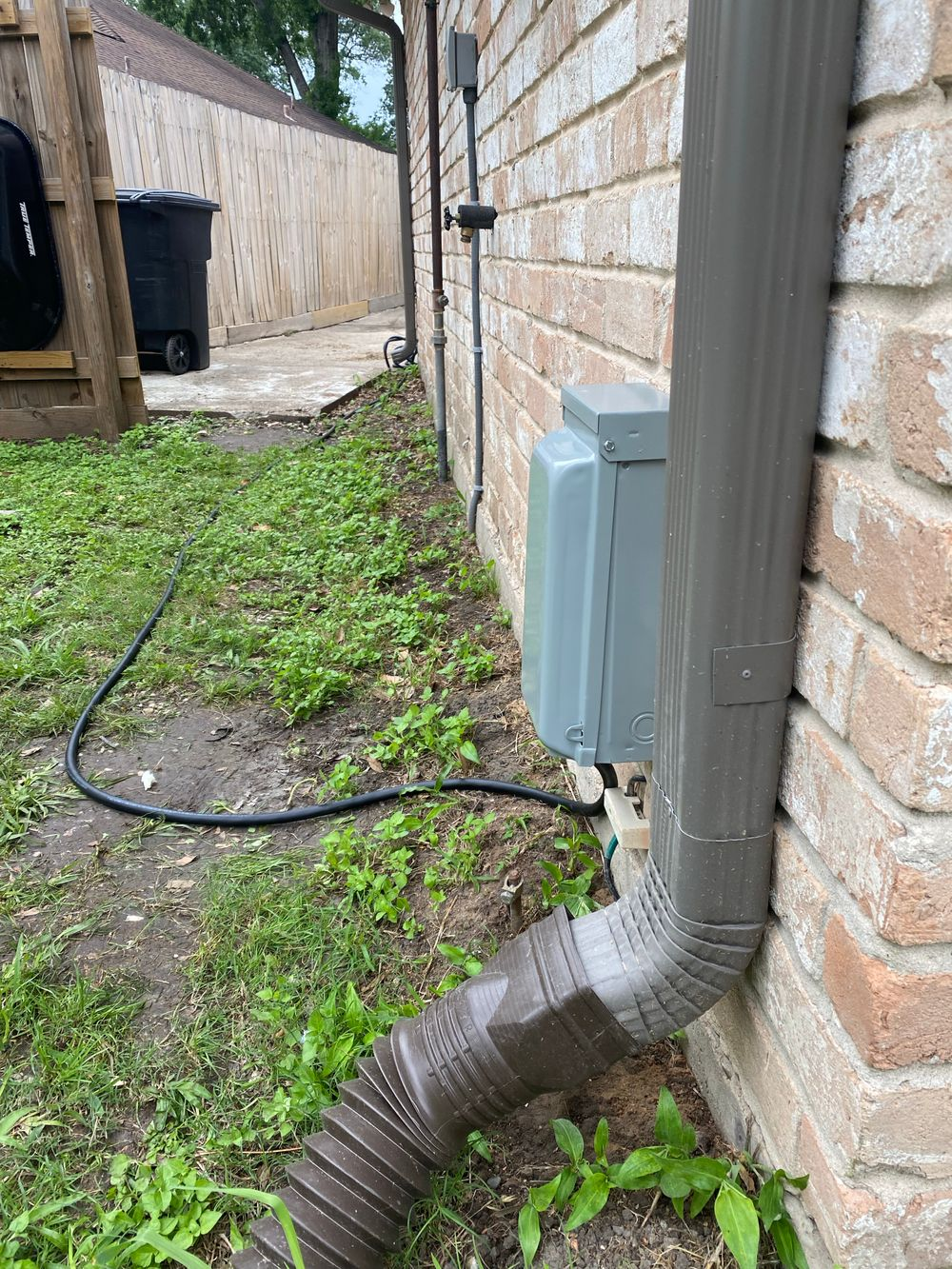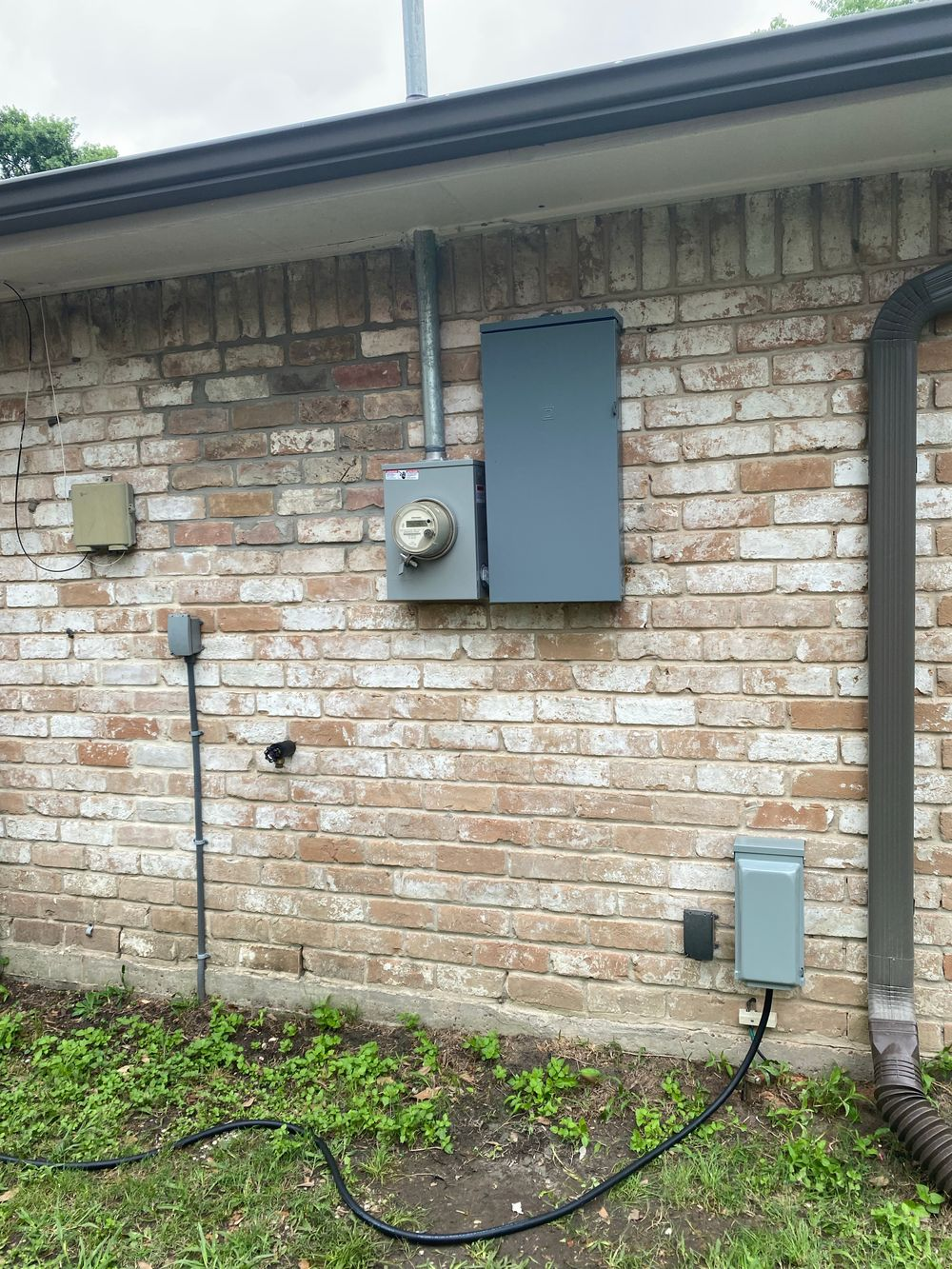 This inlet box lets you close it with the cord plugged in, which is great if its raining.
Here is a shot of the interlock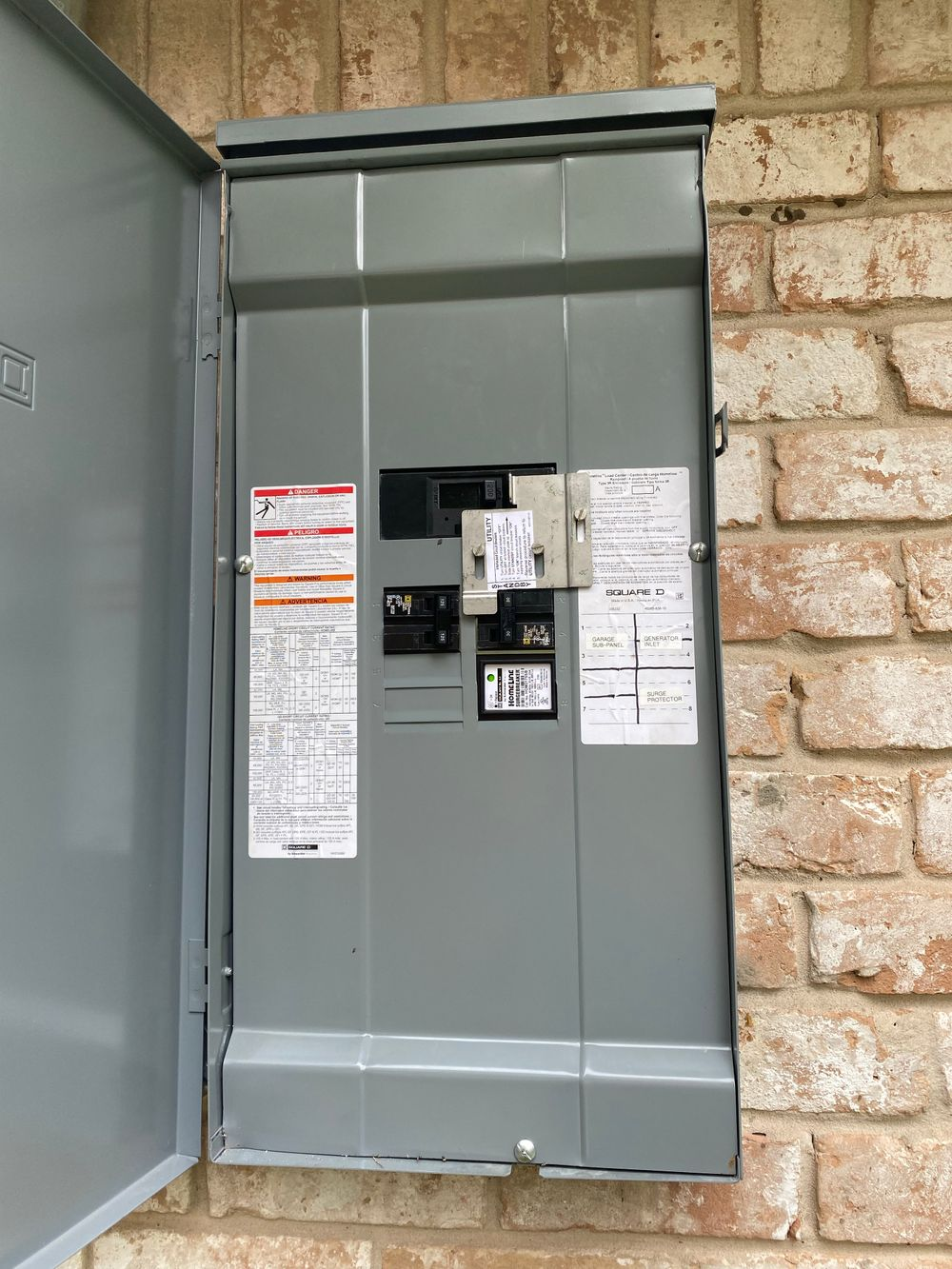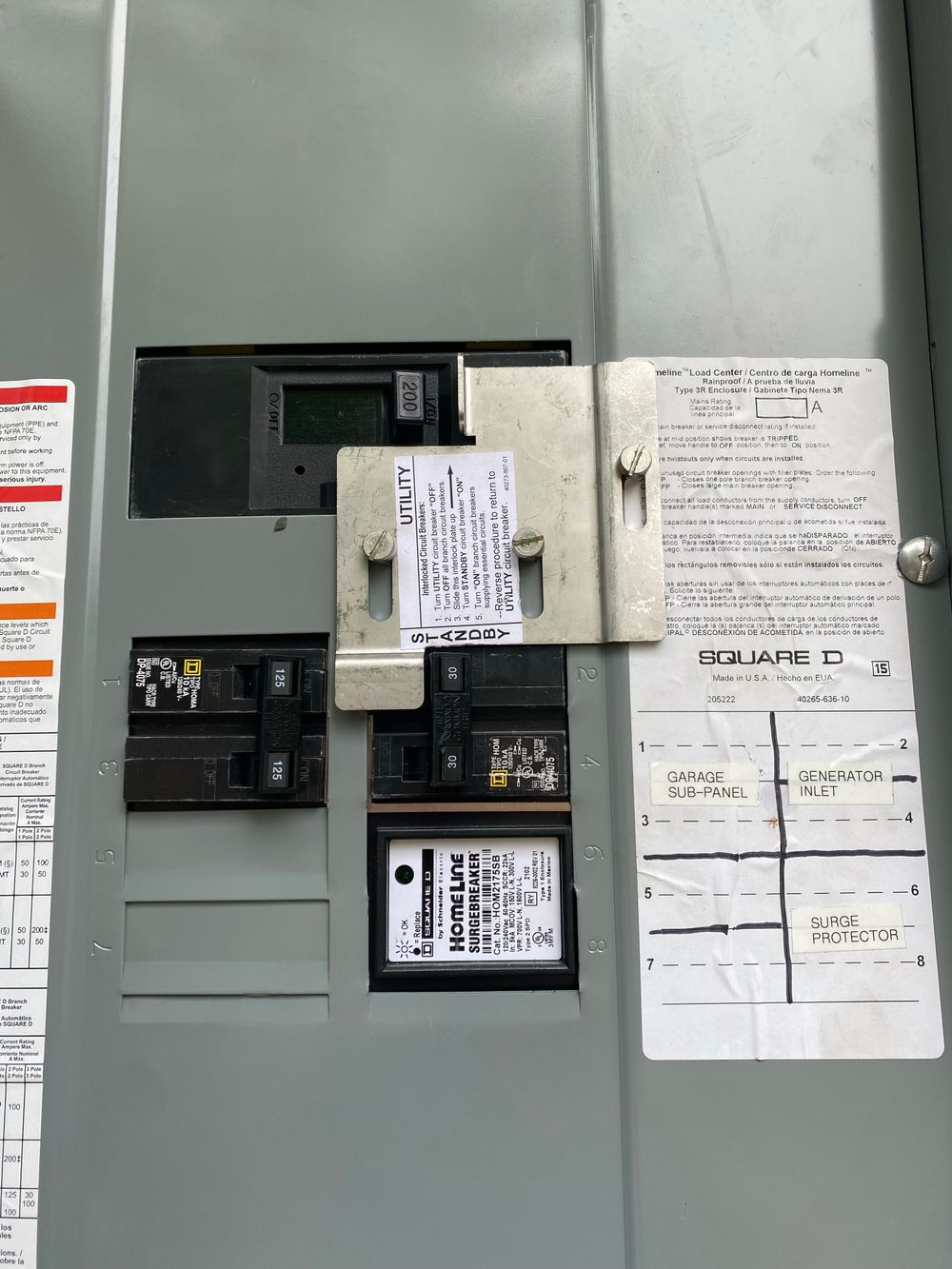 I had no idea how long I would be waiting for my Generac generator, so I decided to pick up a portable generator. A portable generator that runs on Gasoline also means that if the natural gas goes out, I can still get power. And since I have both a Natural Gas furnace as well as some mini split heat pumps that run on 100% electric, I would still have heat if the natural gas went out.
I wanted a generator that would be fairly reliable, had an inverter and could run my AC. While a Honda generator would be the choice, the fact they want $6000 for a 7kw generator is just crazy.
What I really wanted was the PREDATOR 9500 Watt generator from Harbor Freight. But it was not available online, and it was ALWAYS out of stock. I then found the Champion Power Equipment 100520 8750w generator. Its 8750w peak and 7000w continuous and cost just $1000. It is not very quiet, but that's fine for my use as it would be used very rarely, and only in the worst situations.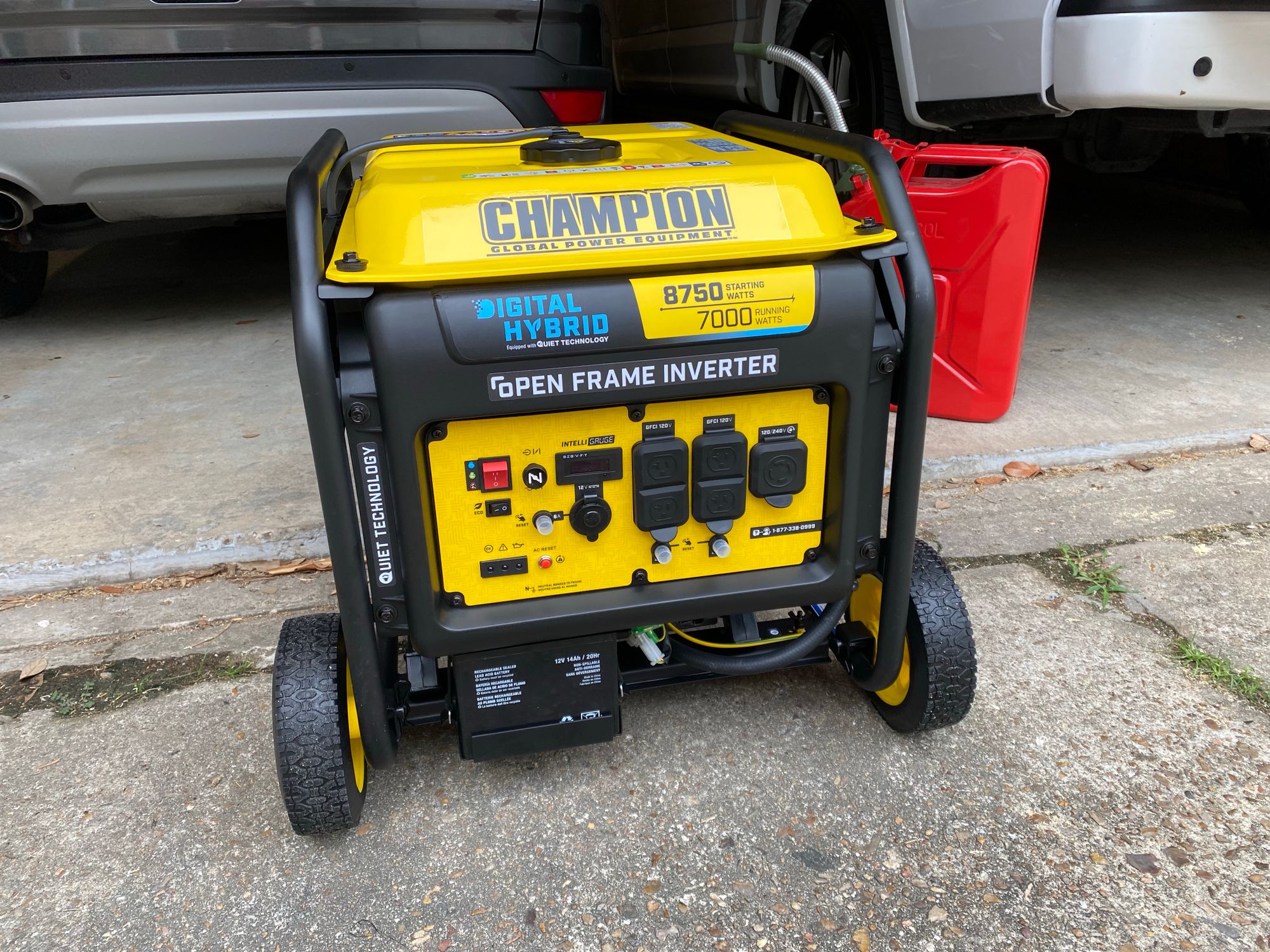 I fueled it up and ran through the break in period, and once that was done I hooked it up to the inlet and managed to start my main AC. Perfect.
I noticed a LOT of glitter in that first oil change, so I threw a GenExhaust Magnetic Dip stick in and ran it some more, and it pulled a lot of junk out the oil. I would get one of these from the start if I were to do it again
The next modification would be a quick connector for the battery, so I can easily plug in a battery tender. I plan to plug it in every few months to make sure it stays full. You can pull start the generator, but I want the battery to work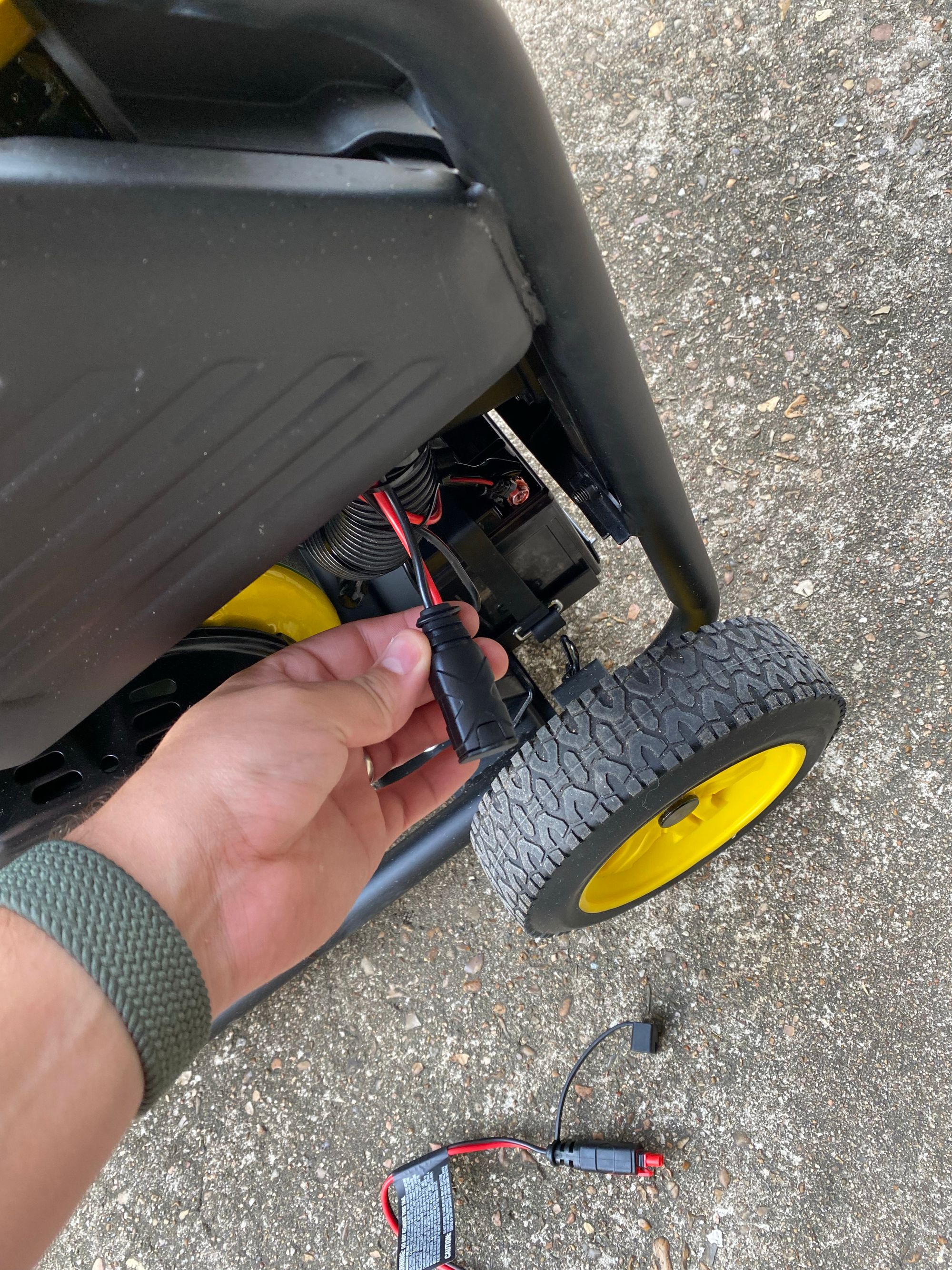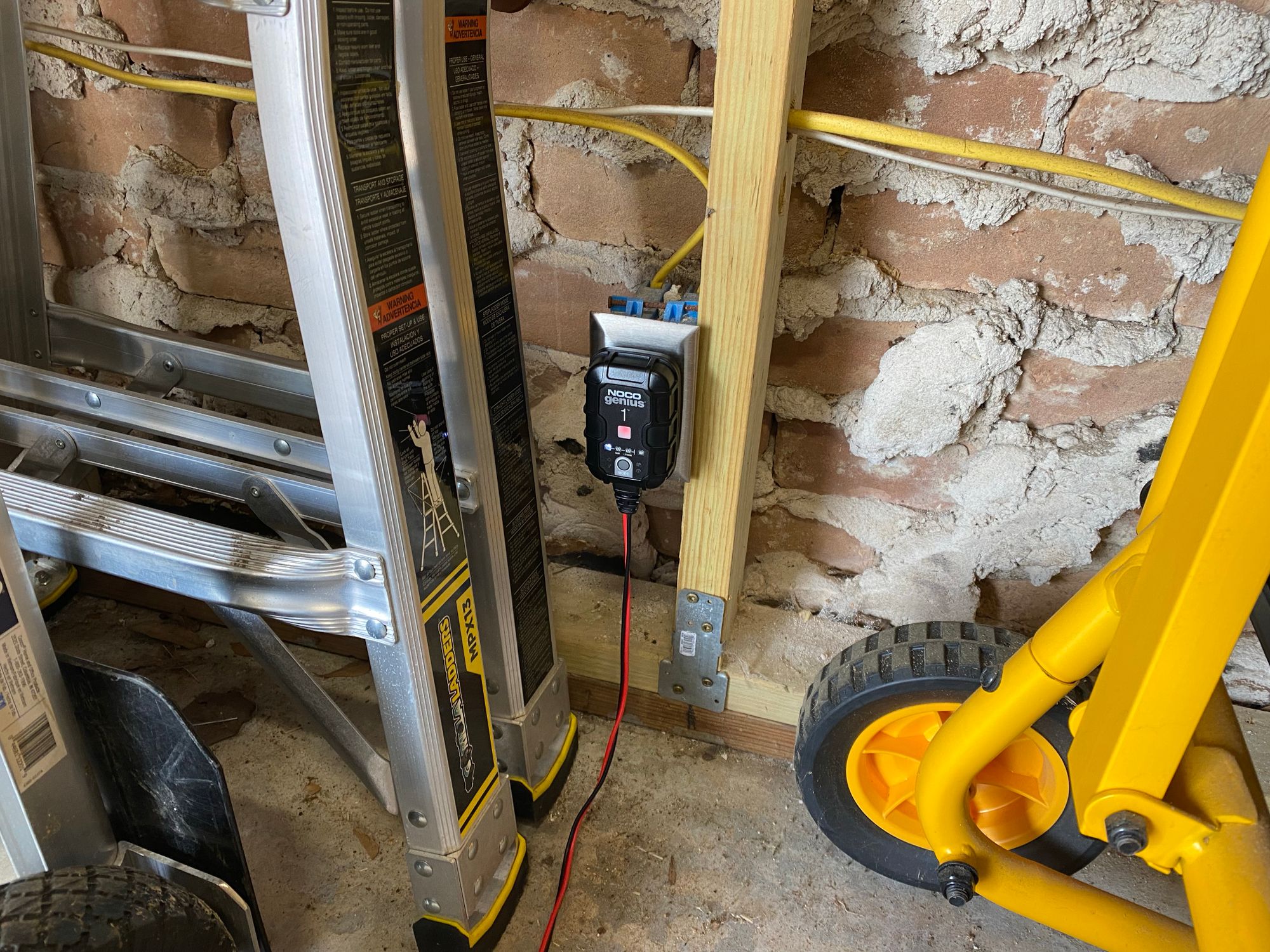 Here are the parts
After that I figured all was good. But then I found out powering my UPS from this generator was an issue if I used the 120v GFCI plugs, read more here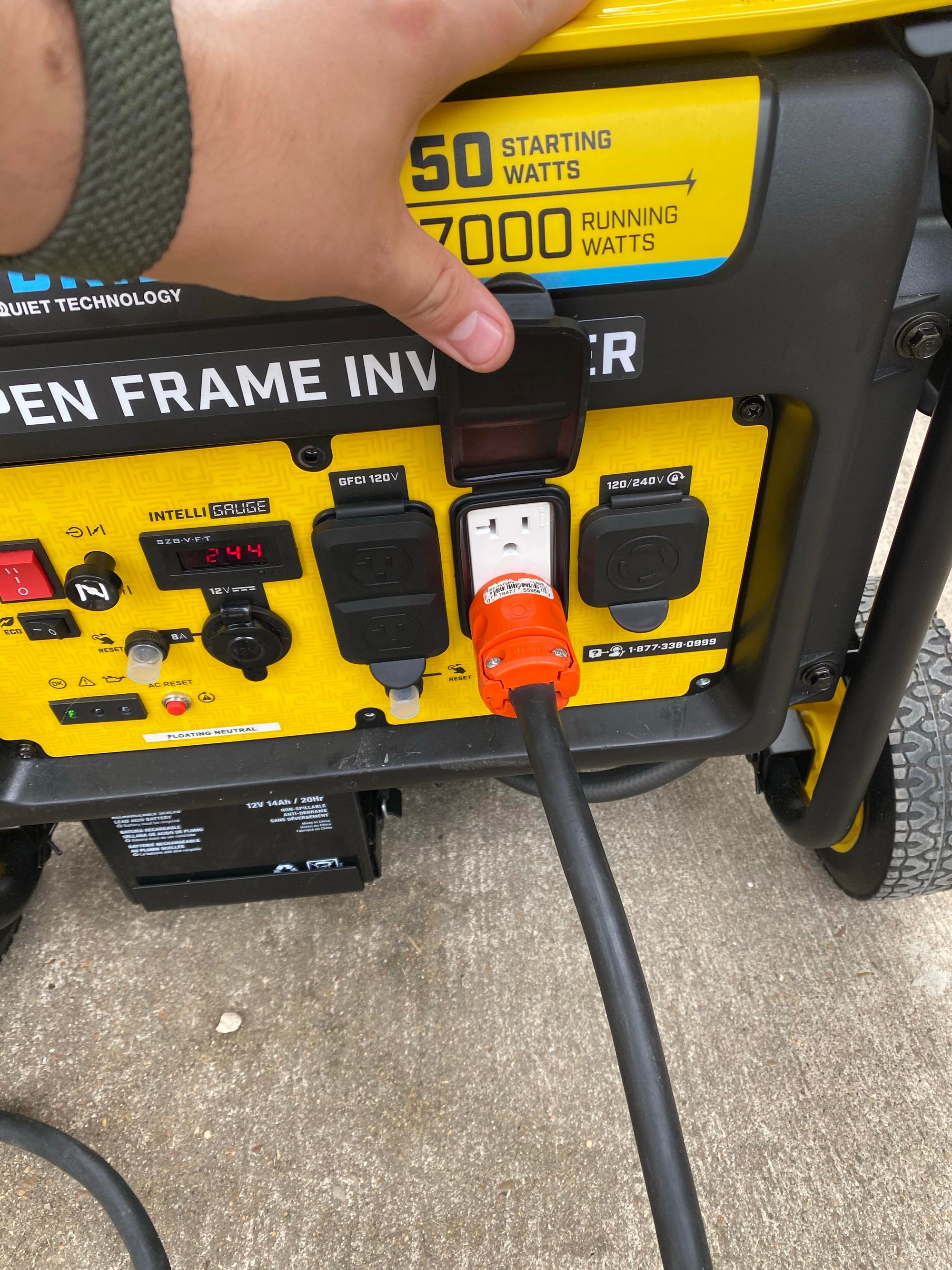 That white oulet was a bit of a standout, so I got a black one. While I was in there, I also added a switch so I can easily switch between bonded neutral and floating neutral. Bonded should be used when just using the generator on its own, and it should be set to floating when plugged into the house. This is so the ground is only bonded to the neutral in one once place (Your electrical panel in that case)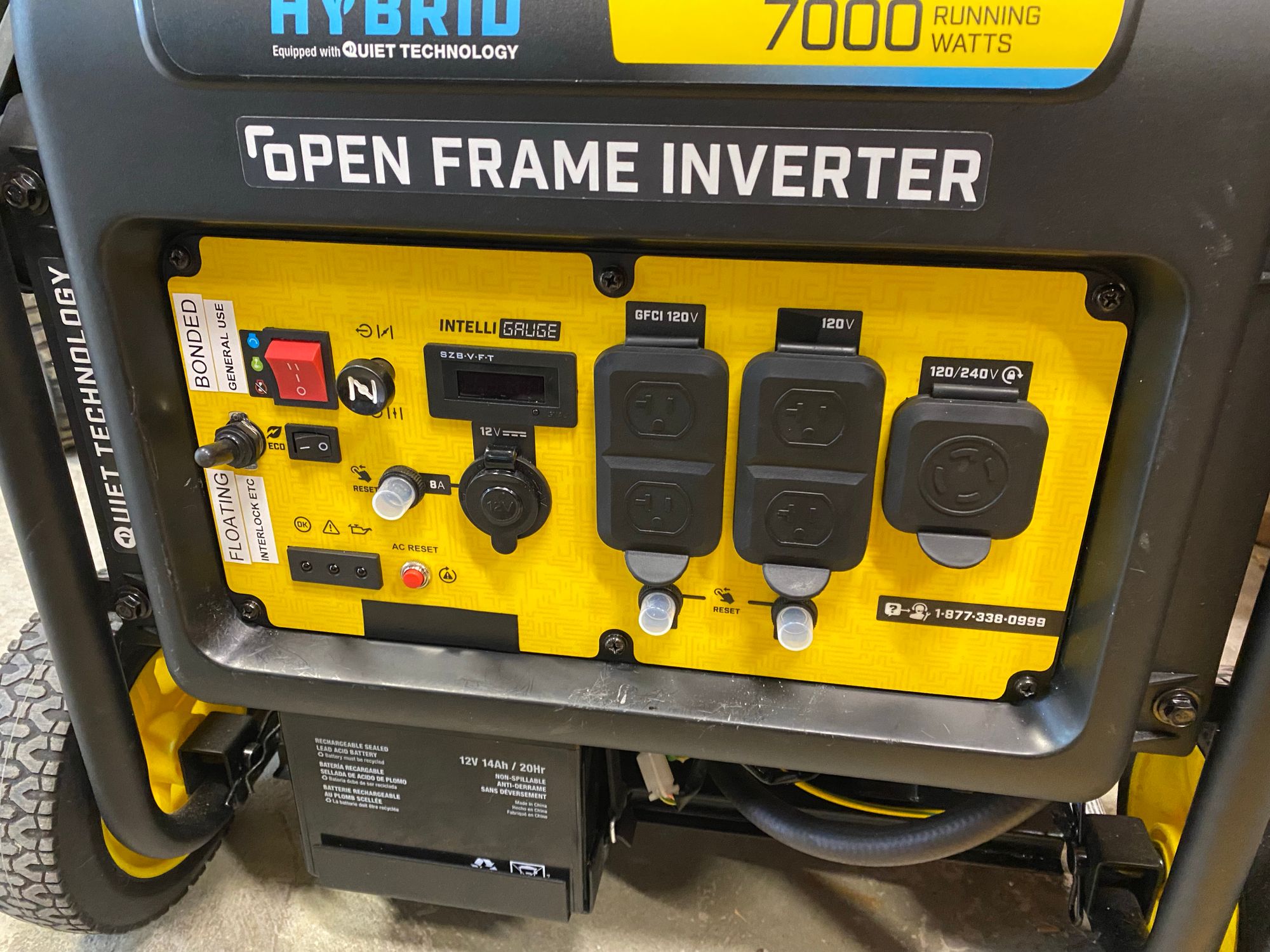 This is the parts I used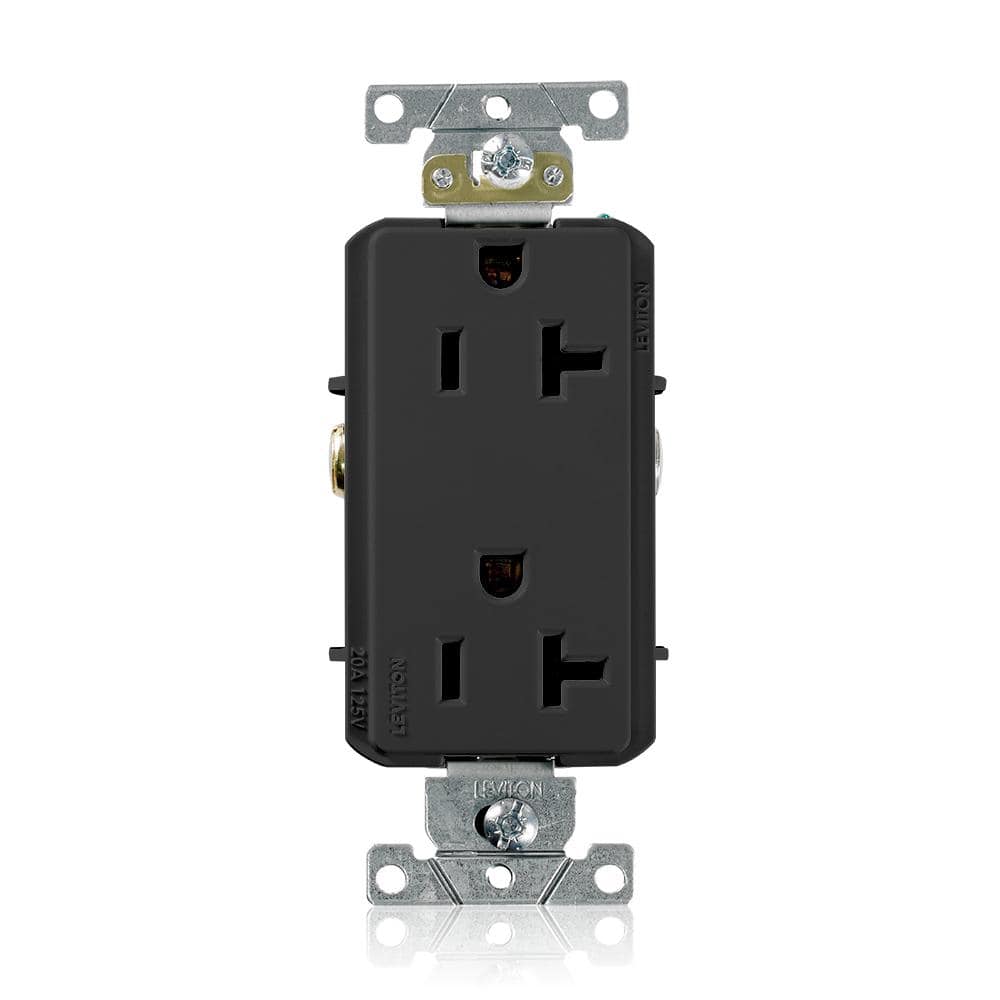 Next I decided that I should get a natural gas kit for it. Then if my main generator fails, I can still hook into the natural gas and power the house without messing around with gasoline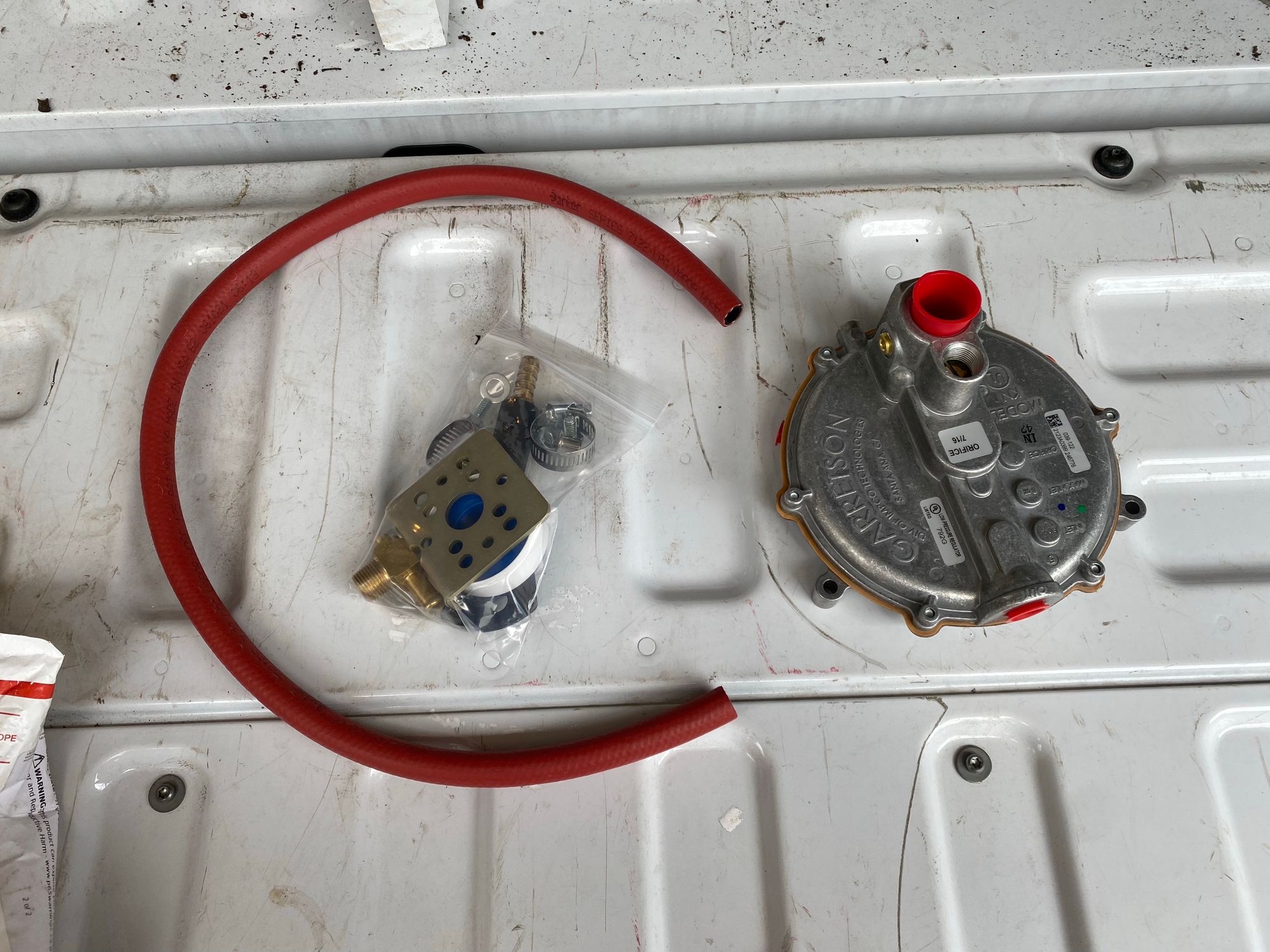 The install instructions were lacking, but I took some tips from this guys great video
In the end, it came out well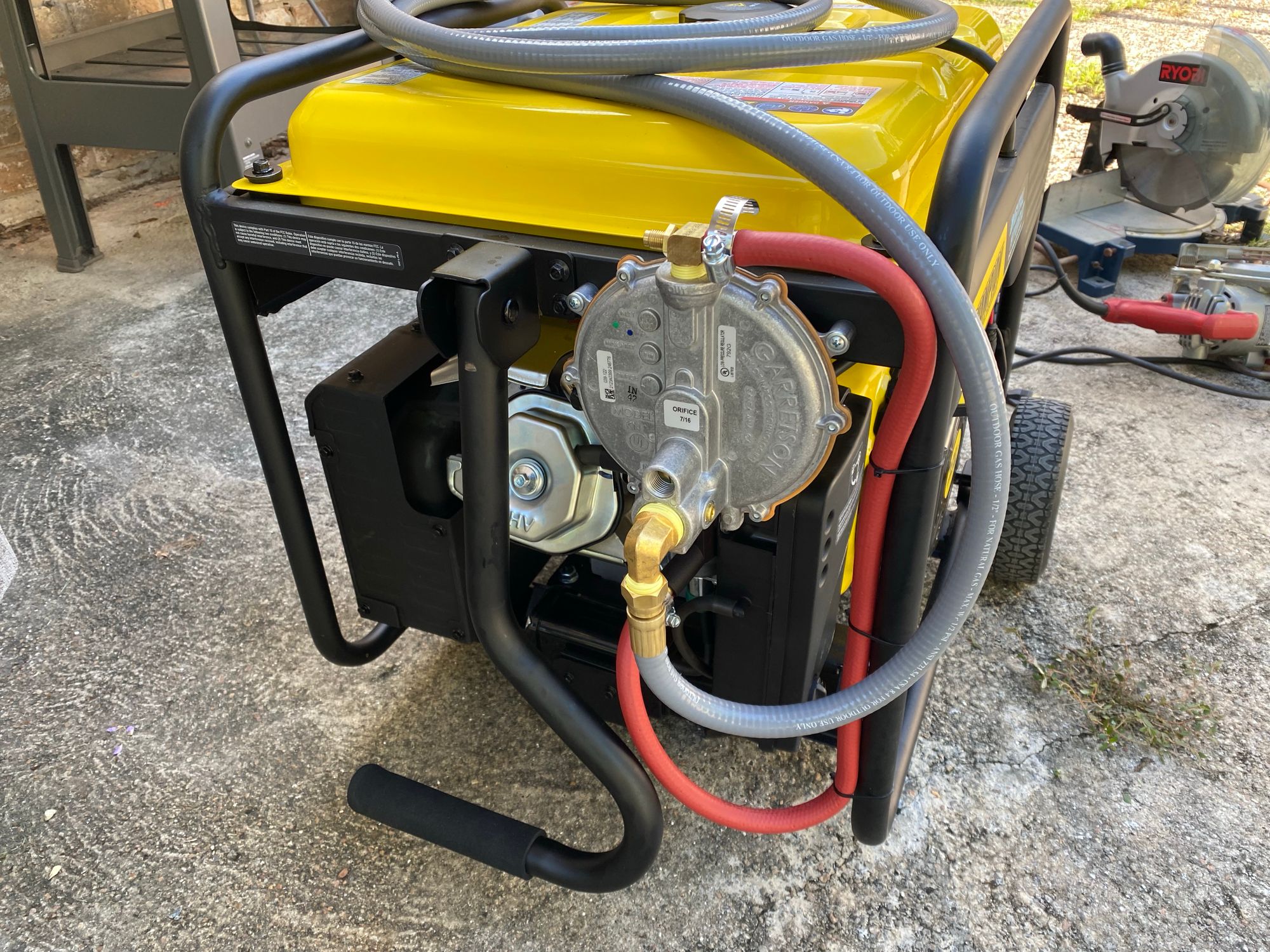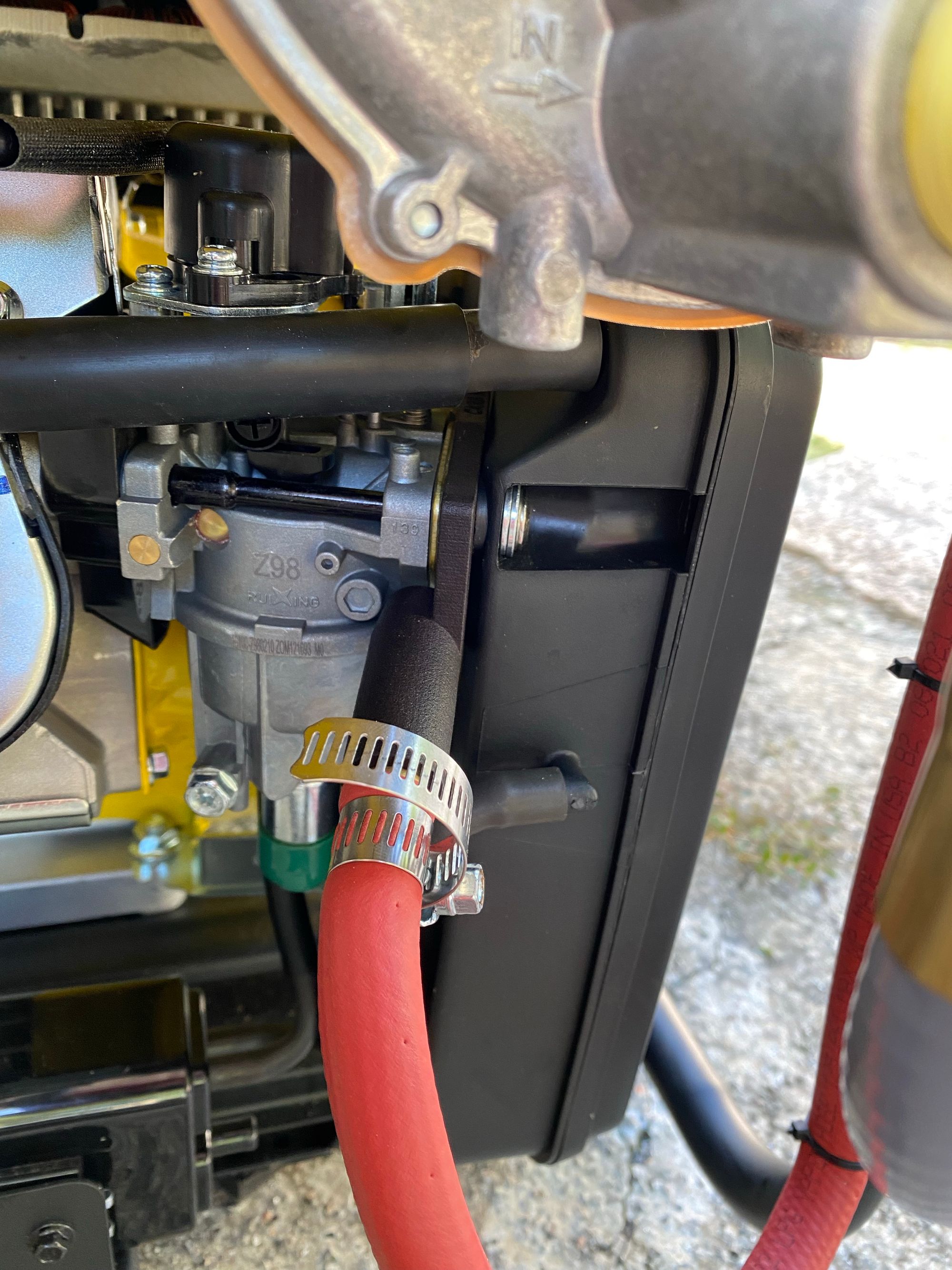 Here is a link to the kit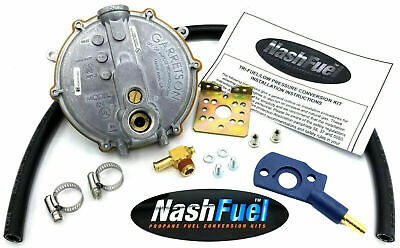 I also took note from the video above and installed a tachometer
Here is a demo I shot of the natural gas kit
And here is a shot of the tachometer working. Interestinly this generator runs at 3400RPM and not what I expected which was 3600RPM. This is standard for this generator. On Eco it throttles down to 2800RPM
I keep the tank on the generator COMPLETELY full to the brim with gasoline treated with Sta-Bil, and I make sure the carb is completely drained and dry. Because the tank is completely full, it means there is no room for condensation, and it should last a long time. I plan to rotate it out each year, so I wrote it on the tank with a sharpie.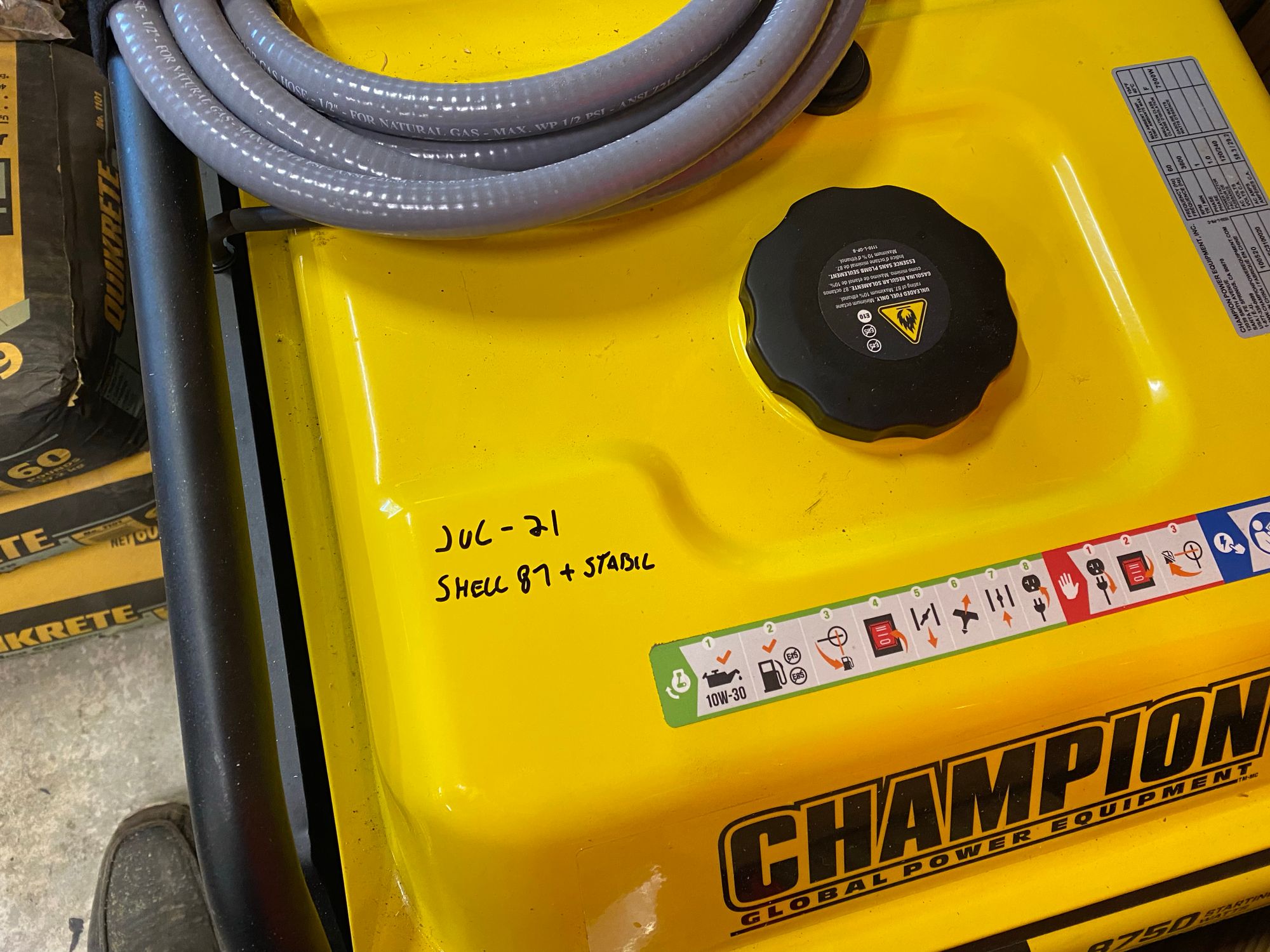 So far this generator has handled everything I have thrown at it, even my welder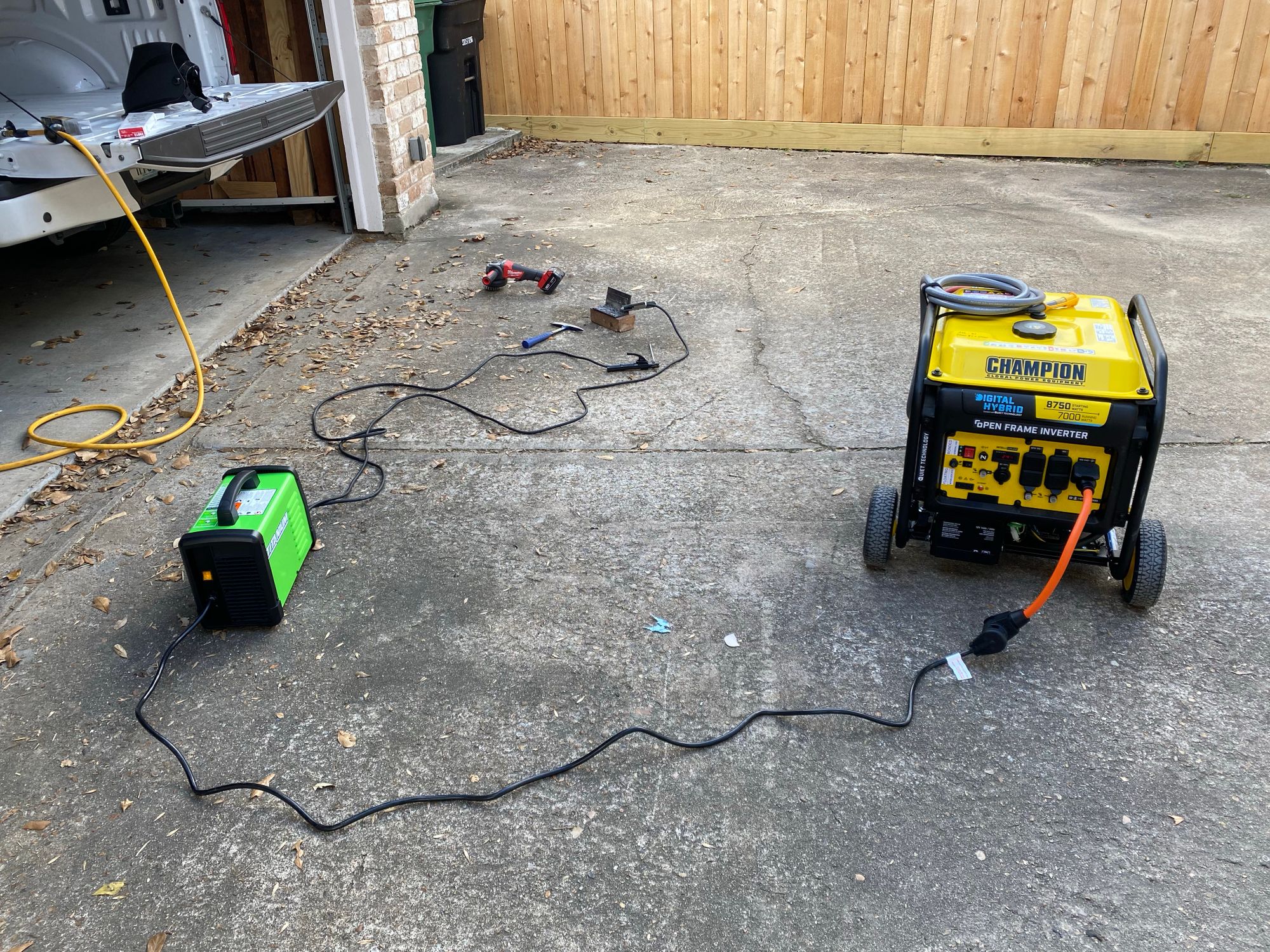 For the inlet cord, at first I bought what I thought was a good cord. DO NOT BUY THIS CORD!
When I got it, I found that it simply did not lock... You can pull it out without any issue. Not really much good for a TWIST LOCK cord. Here is a demo
I contacted Reliance who make the cord, but never got a reply quickly, so I went ahead and just returned the cord to Amazon, and ordered a much better cord from Iron Box which is made with real SOOW cord, and high quality ends. I paid $109, so only $10 more than the junk Chinese made Reliance cord.
When I got the Iron Box cord, I noticed how well the ends lock
In the meantime I did get a reply from Reliance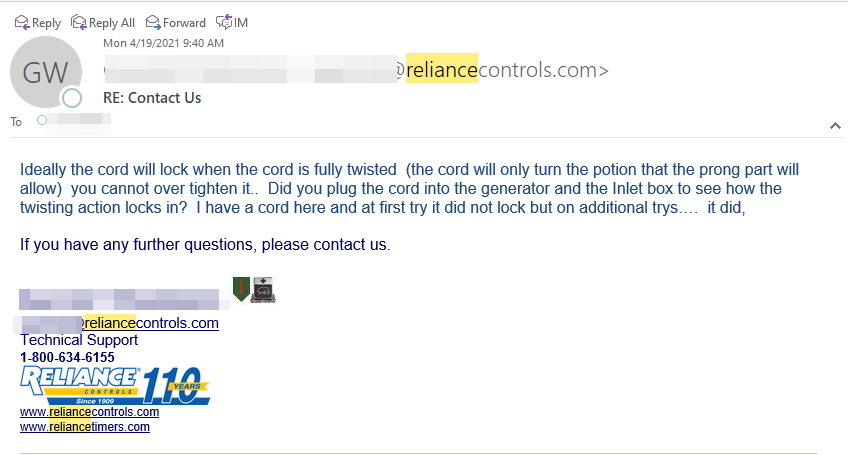 I replied back to them saying I returned the cord, and got a better cord. I got this snarky reply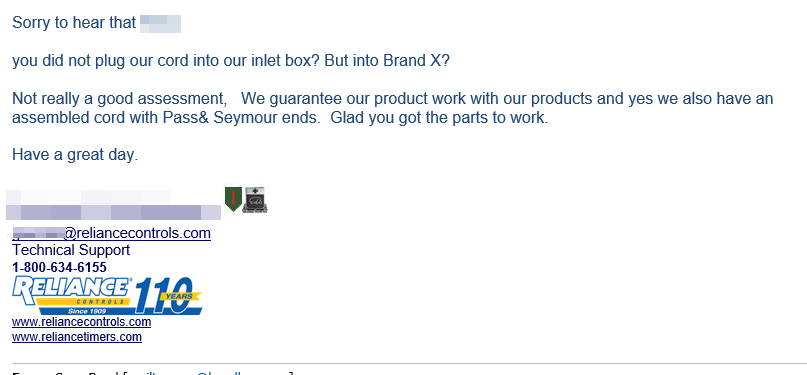 Are they really saying that I should ONLY be using Reliance products? Yikes. These are standard NEMA plugs and should work with any brands. I guess this is all they can do to defend their junk products.
I tried to leave a review, but for some reason it got removed... Now I'm starting to realize how that cord has such good reviews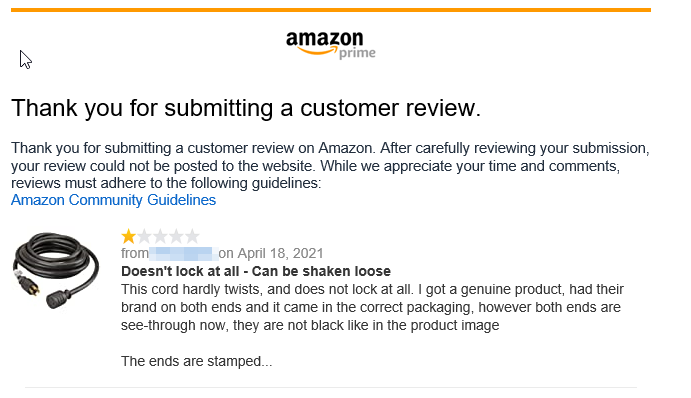 So the moral of the story here is to avoid Reliance! Not only do they not stand behind their products, but they are junk.
Next I decided that I really need to keep some gasoline on hand. Not only for this generator incase I need to use it, but incase there is a disaster and everyone starts hoarding gasoline or there is a shortage.
I bought some more Wavian NATO gas cans, so I now have a total of 14 of them which is just over 72 Gallons of gasoline.
Wavian gas cans are completely sealed, do not vent, and are fire resistant. Because they are sealed, I've stored gas for over a year with no Sta-Bil, and it was fine.
Here is a demo of how durable the cans are
First I needed a way to get them around, so I modified the wooden bed divider in my F150 to easily move cans (More details on the wood below)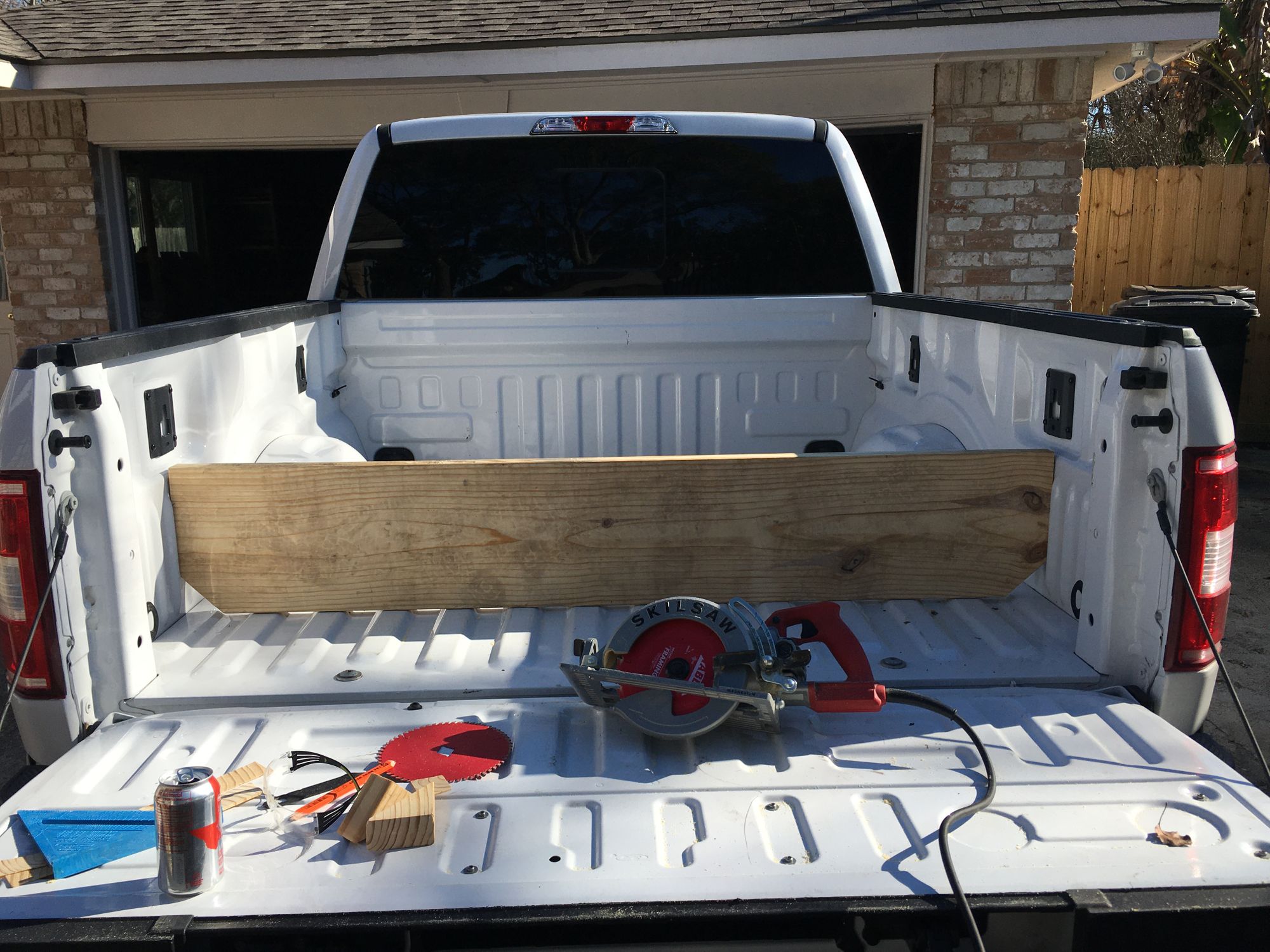 I added a middle section which easily fits 4 cans perfectly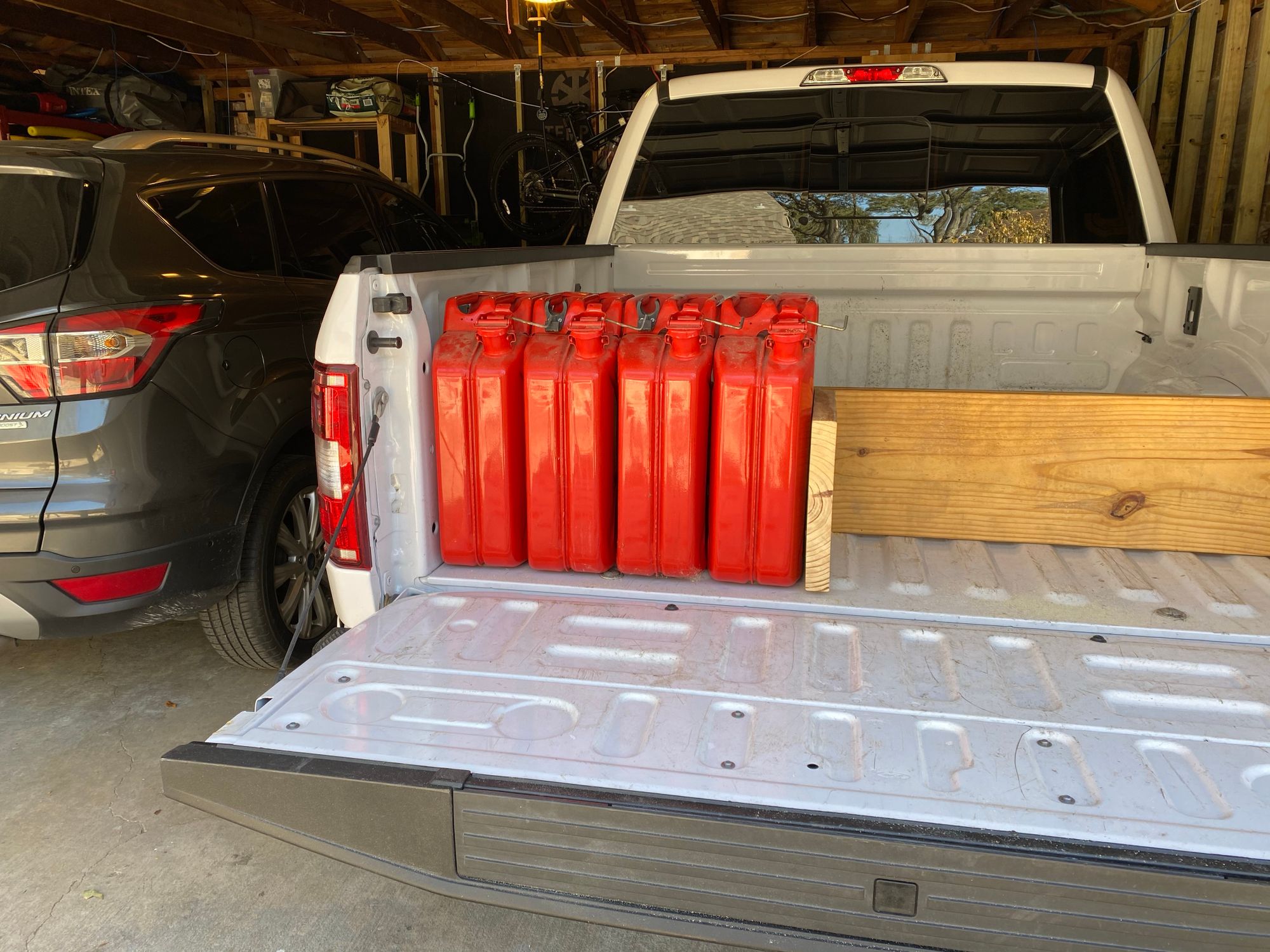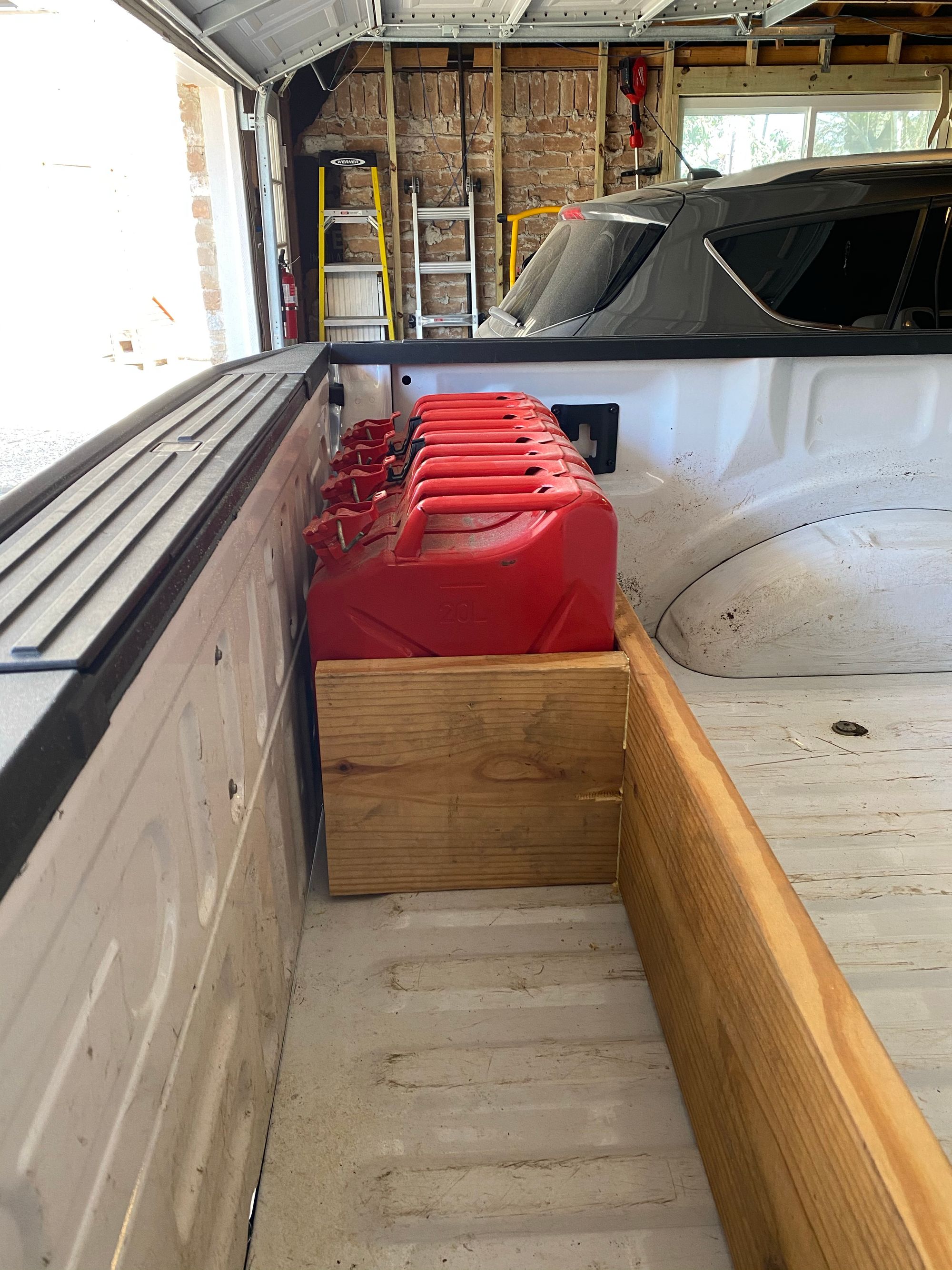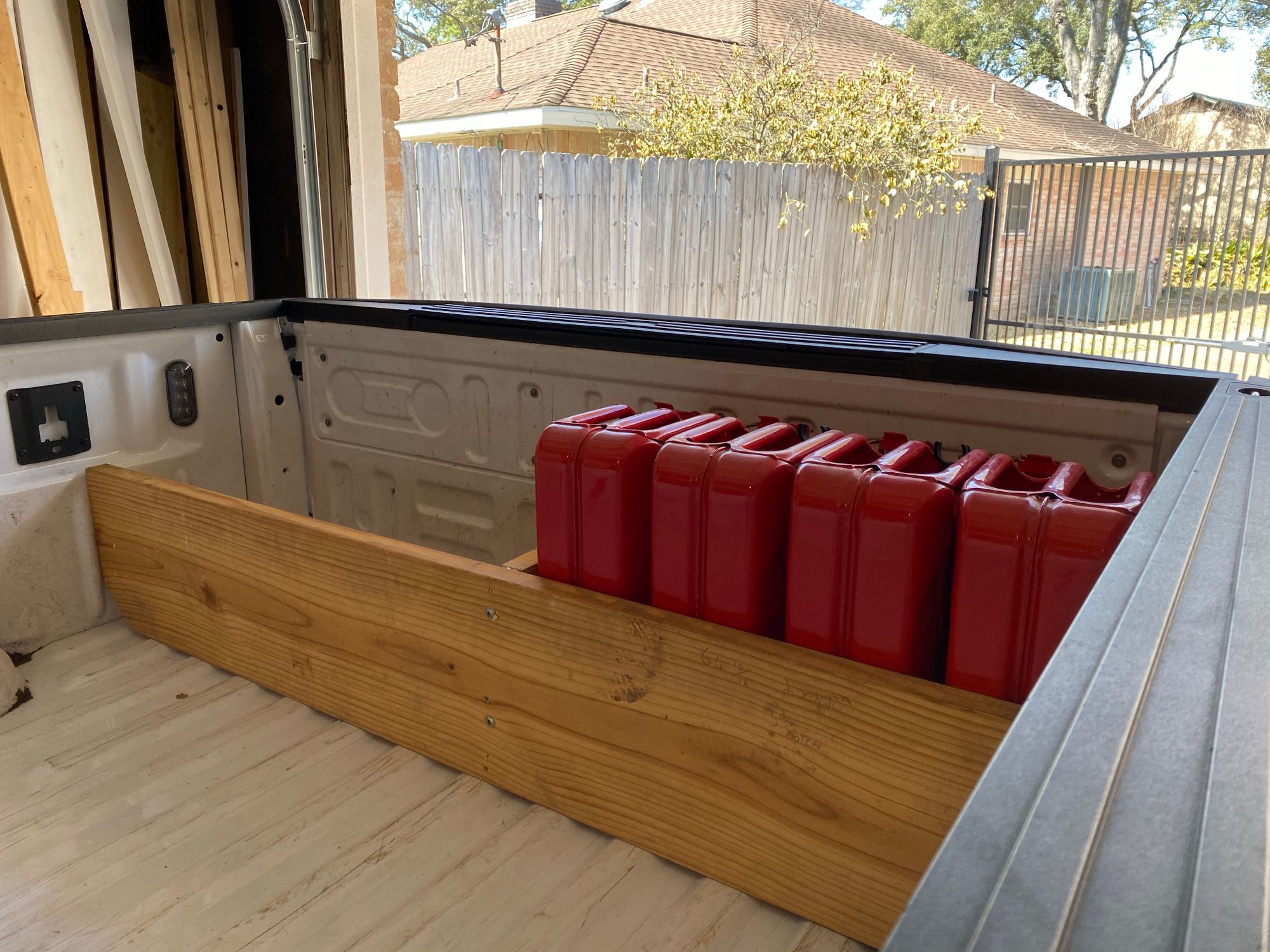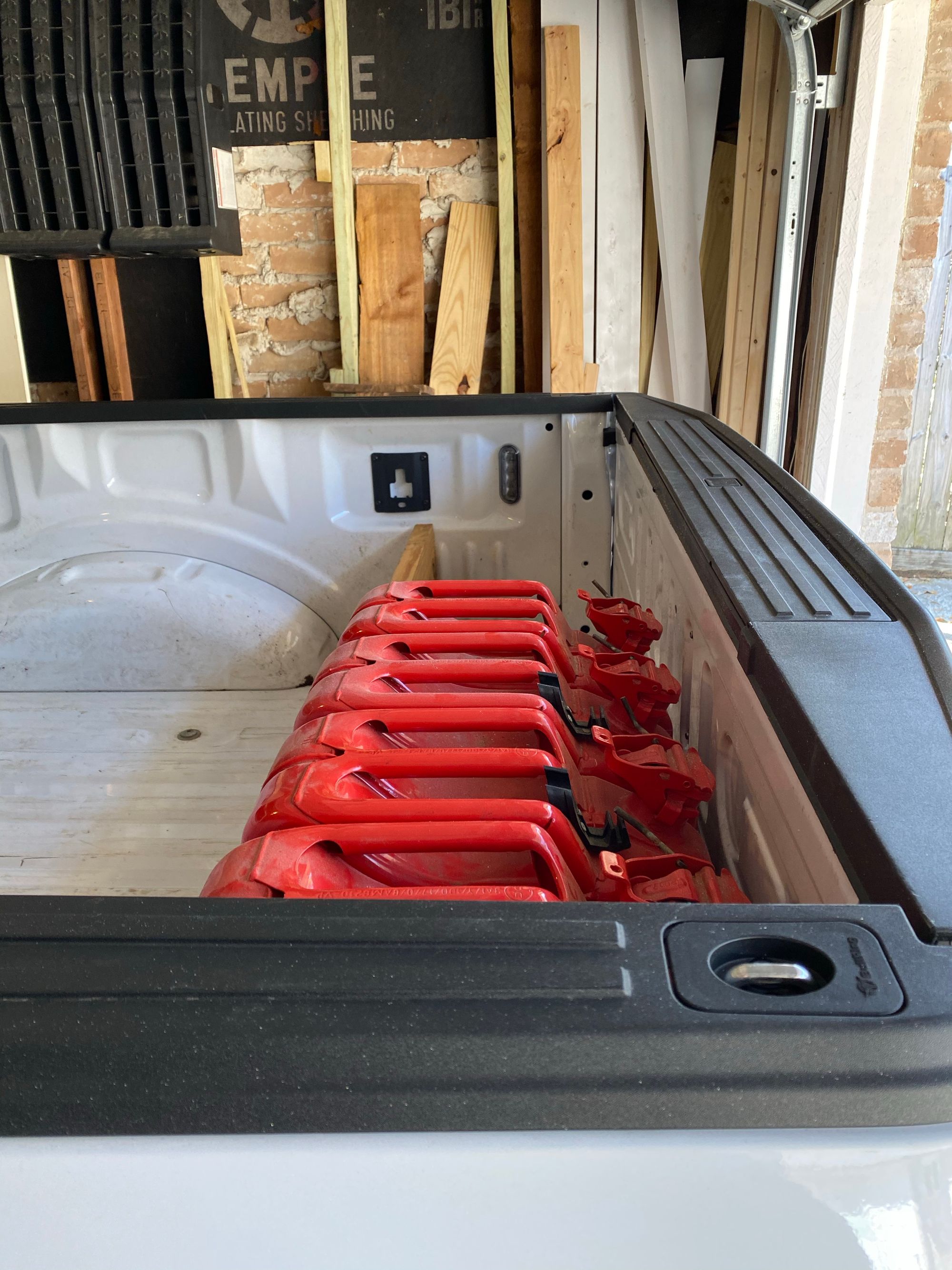 After test fitting, I painted the entire thing white. And I found I can fit 5 more cans on the other side. So now I can very easily move 9 cans around at a time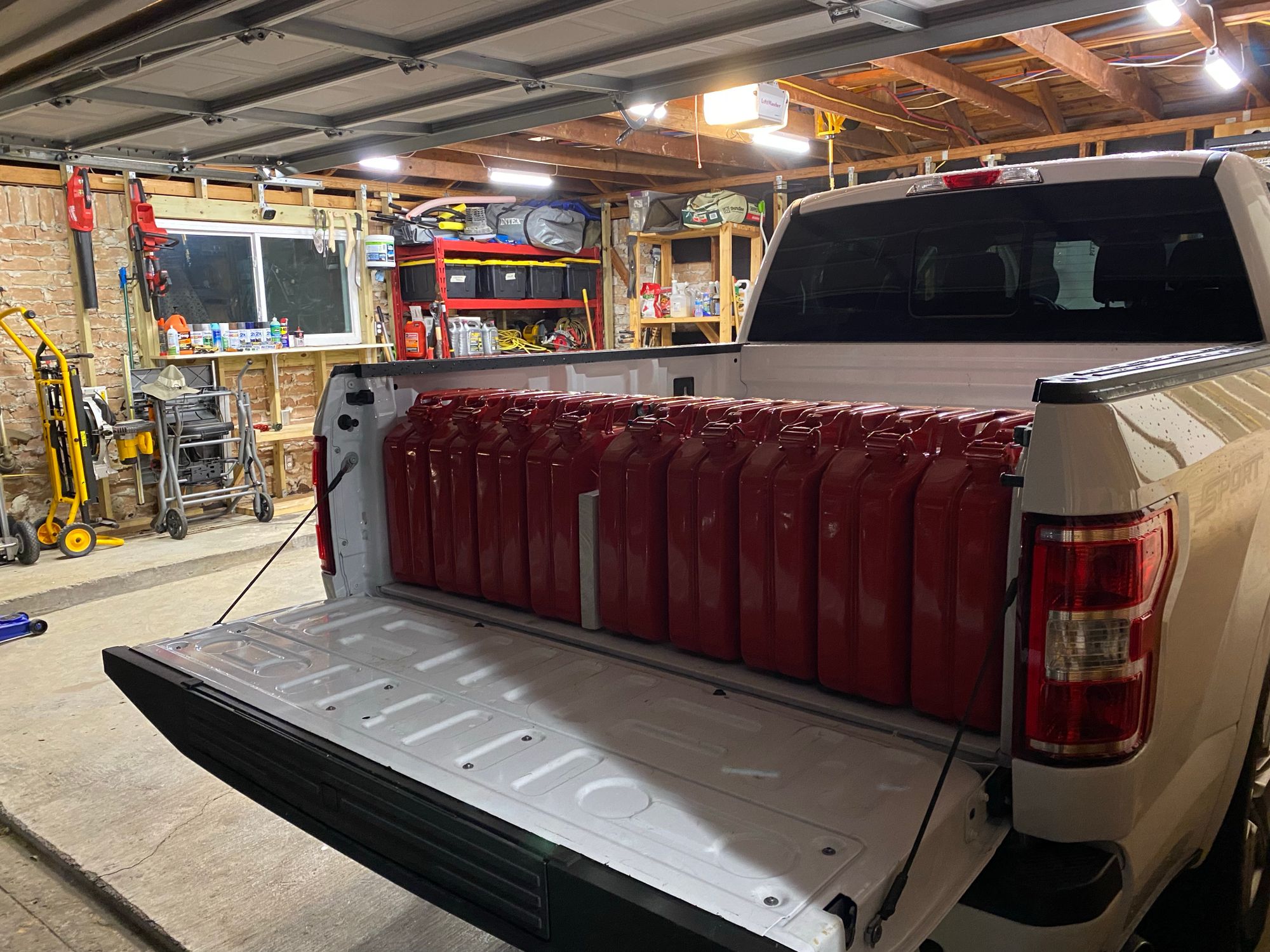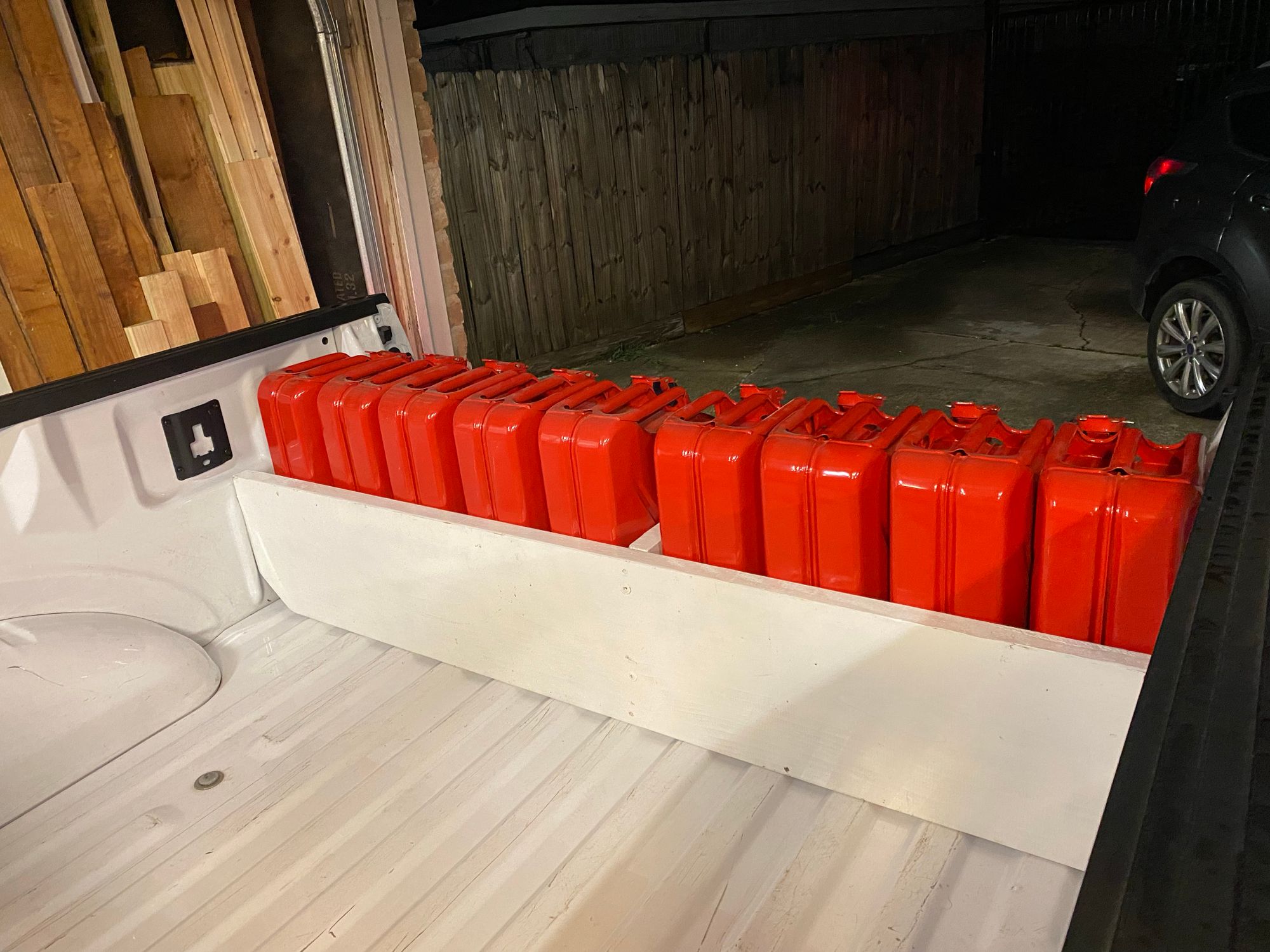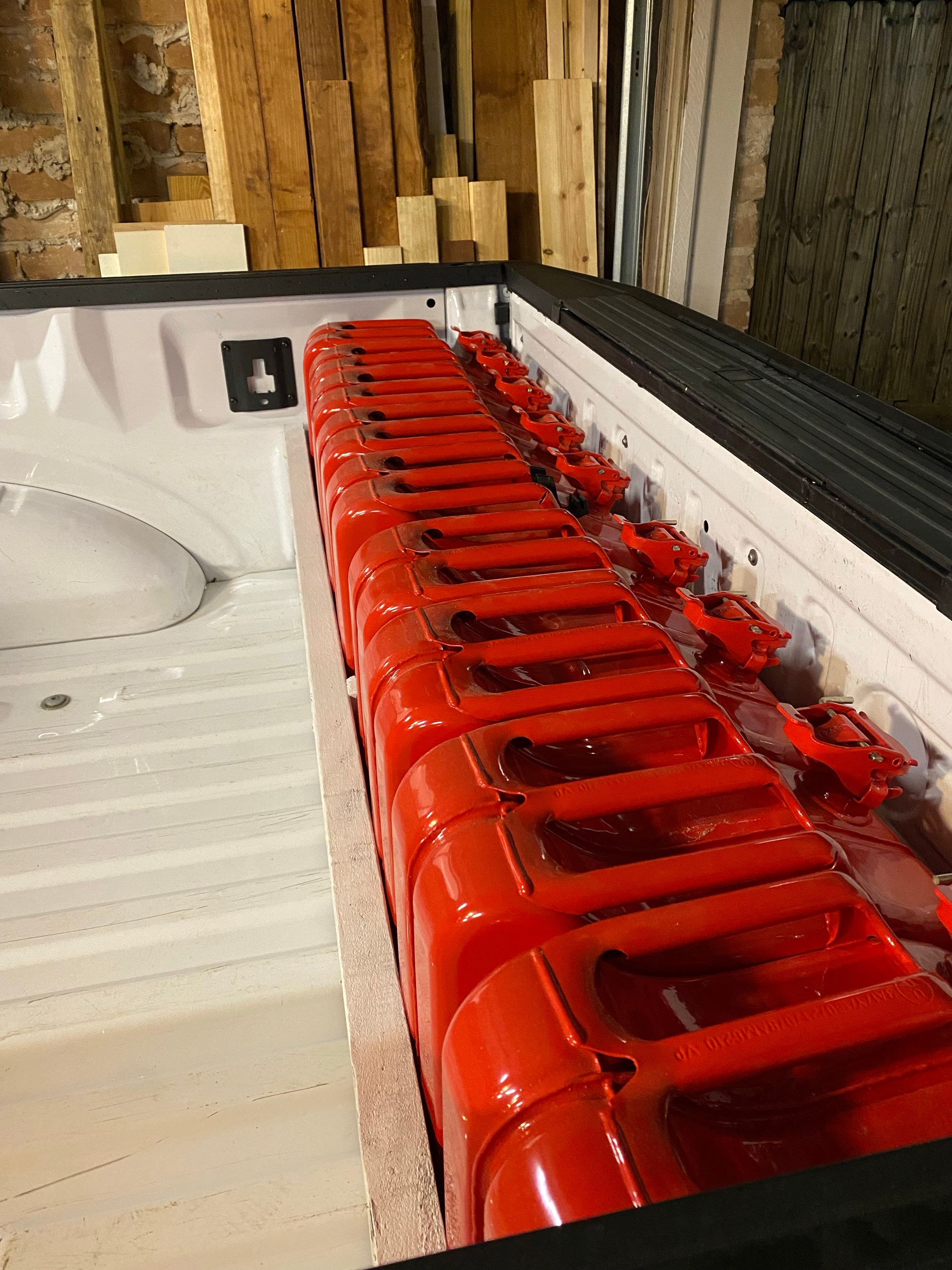 Then I got a bunch of scrap wood I had on hand, and built a storage rack for them. If this looks thrown together, that's because it is. I never purchased anything for this, it was ALL scrap.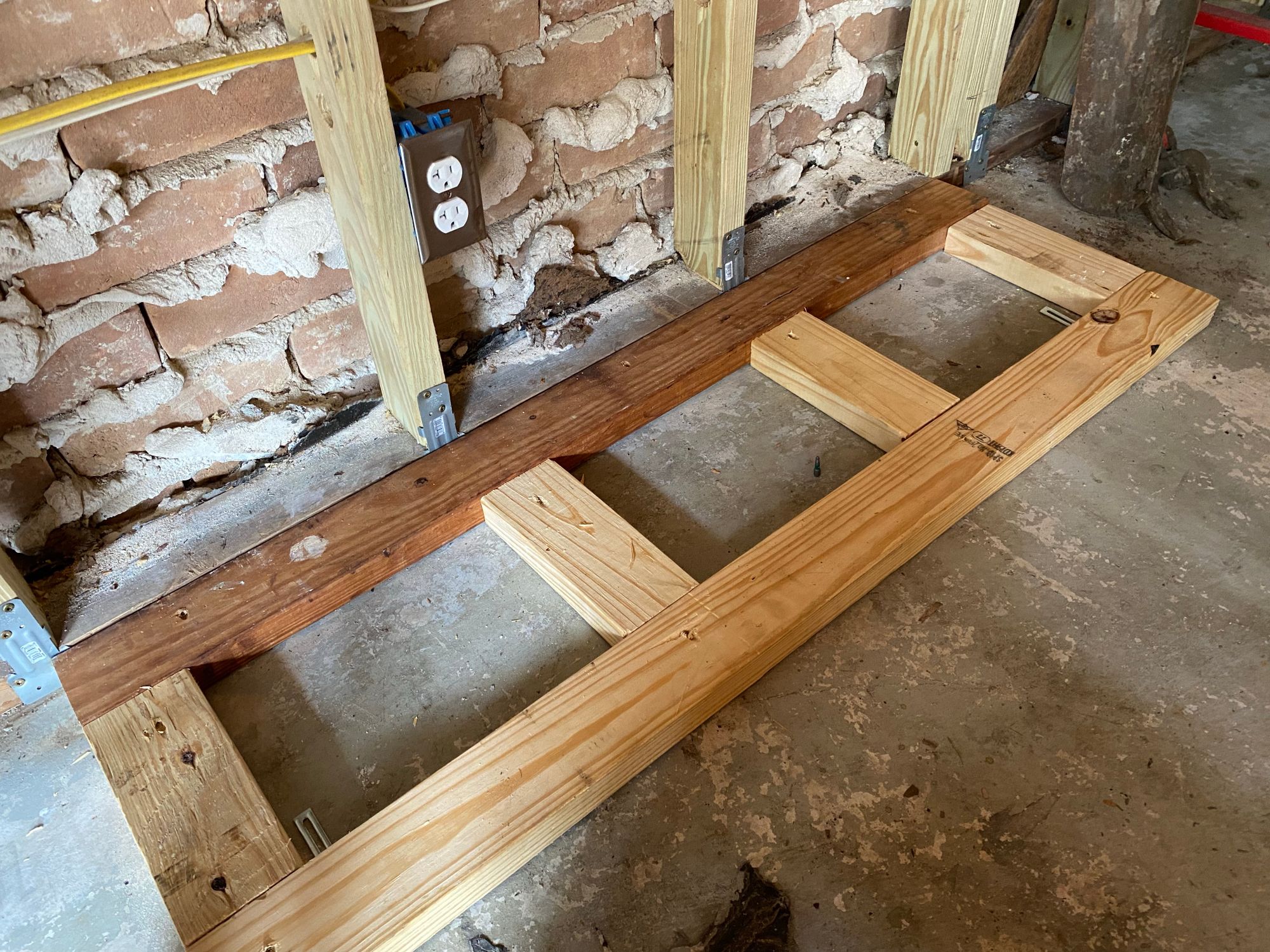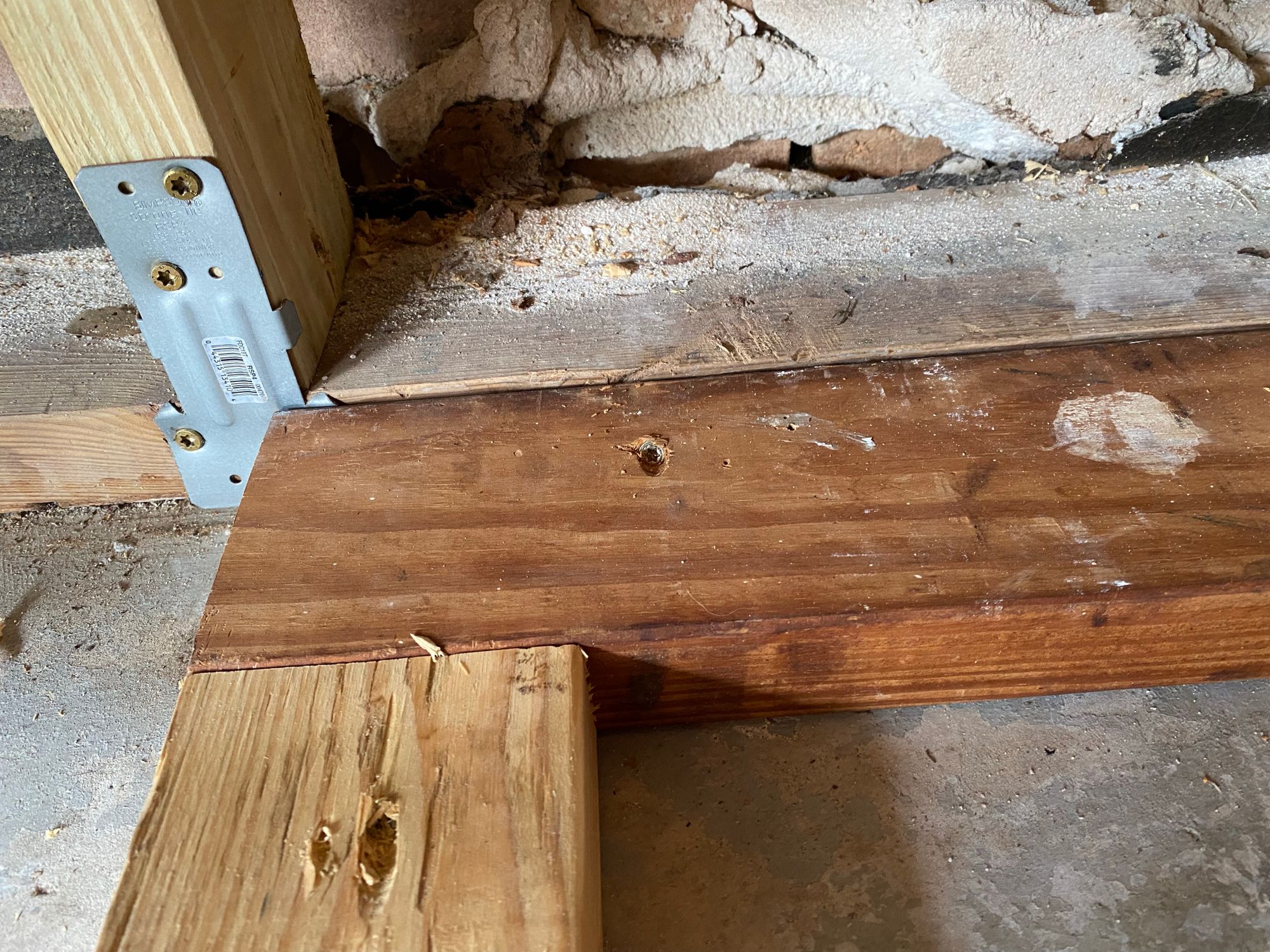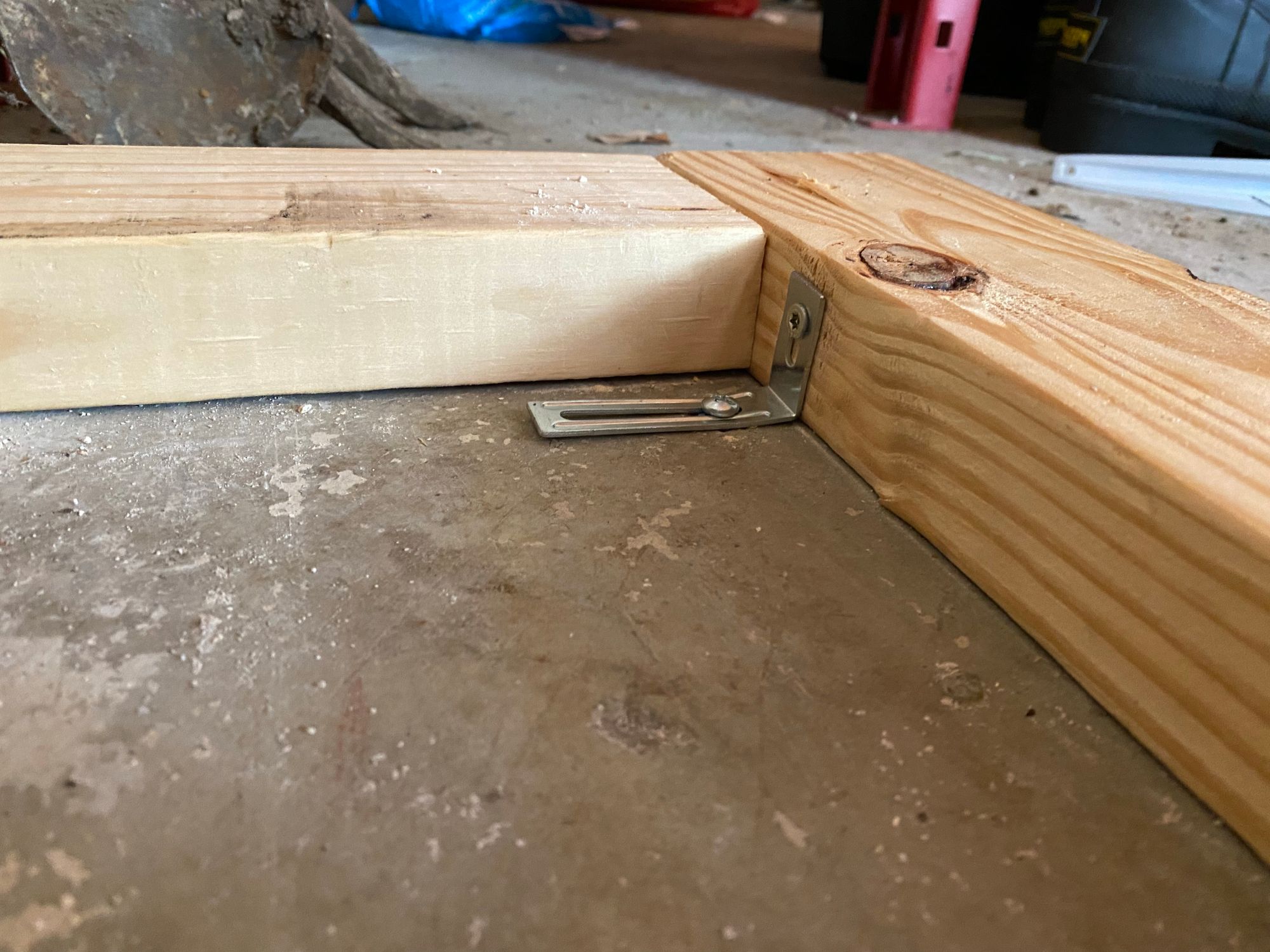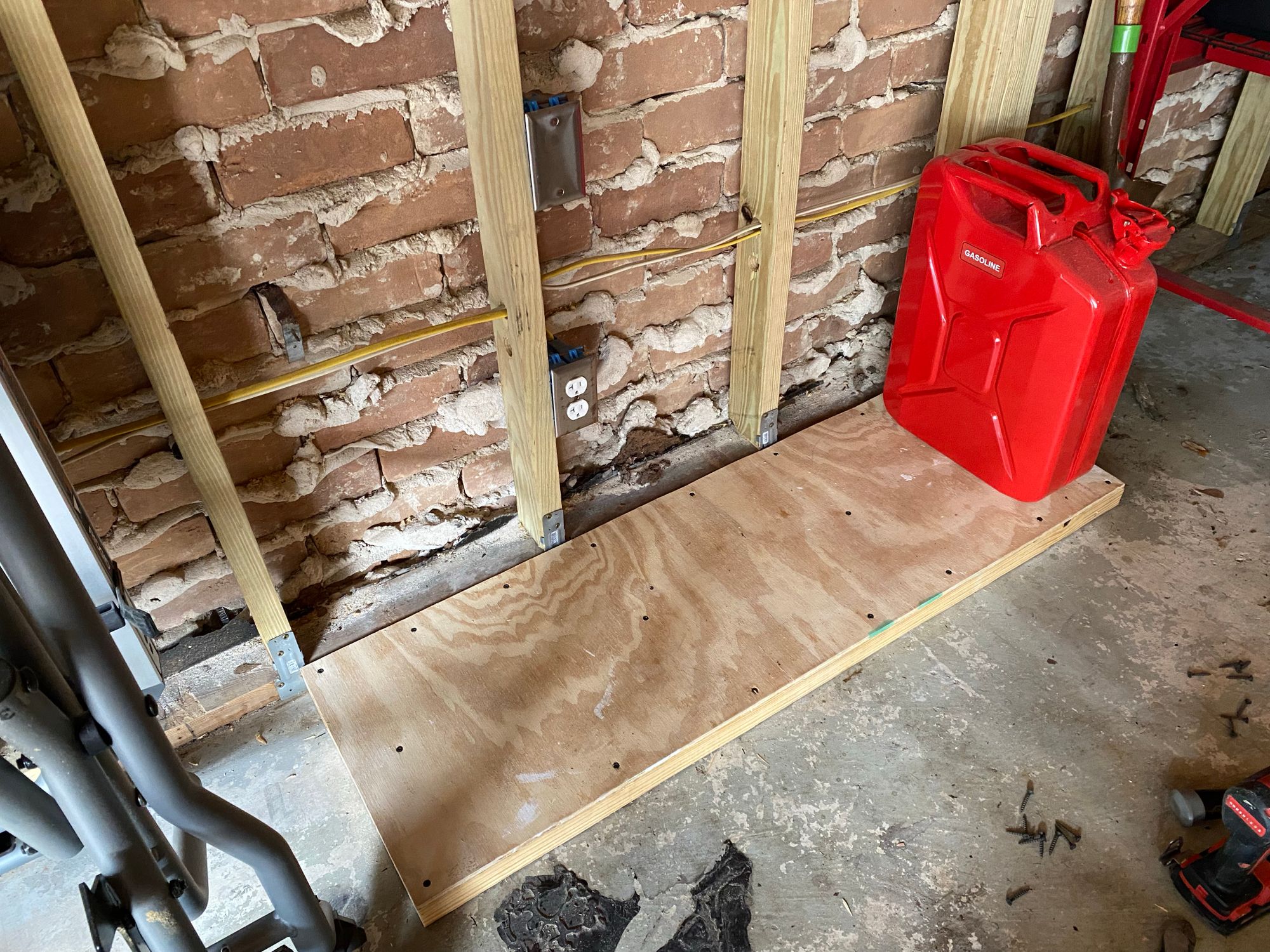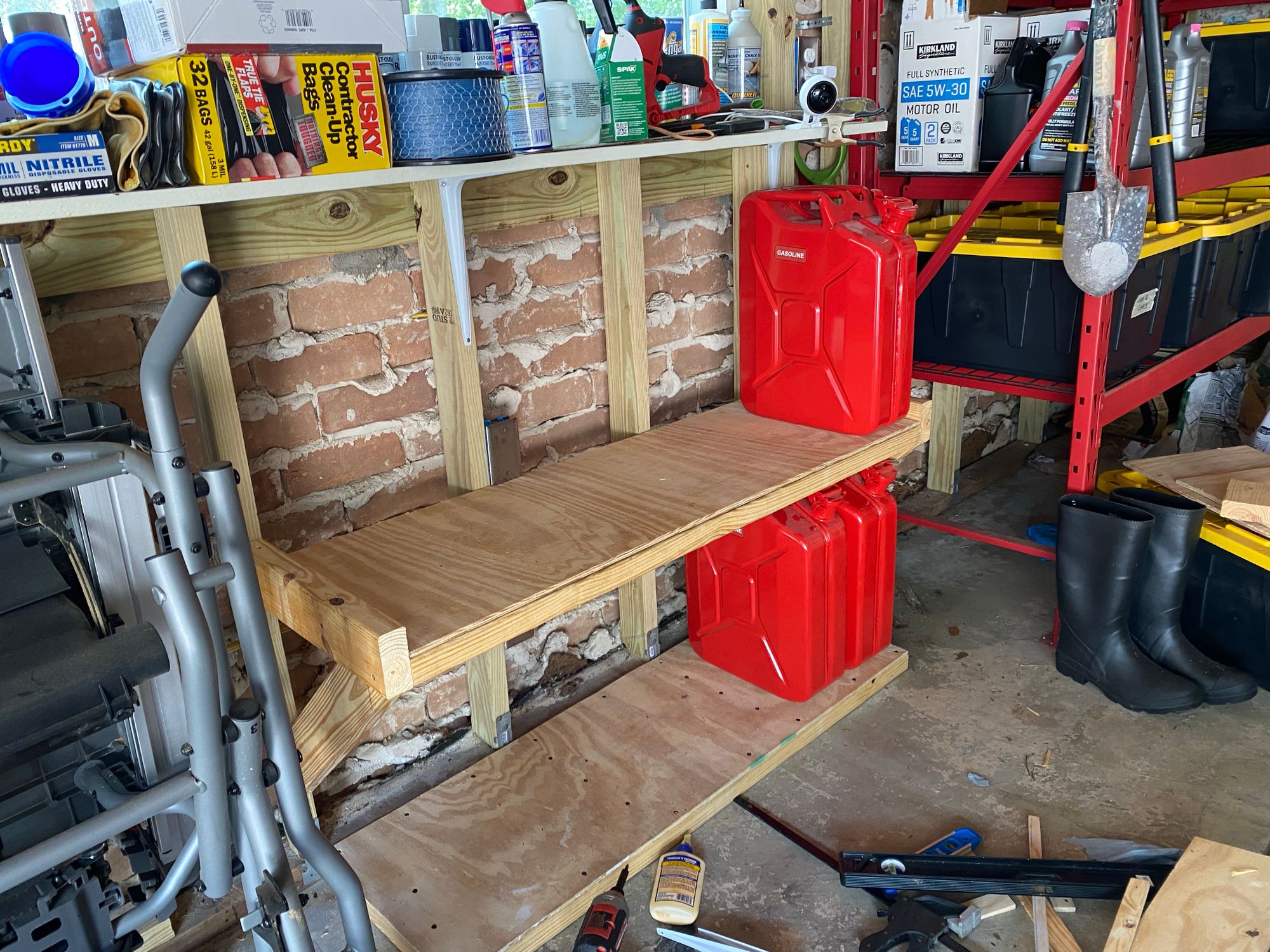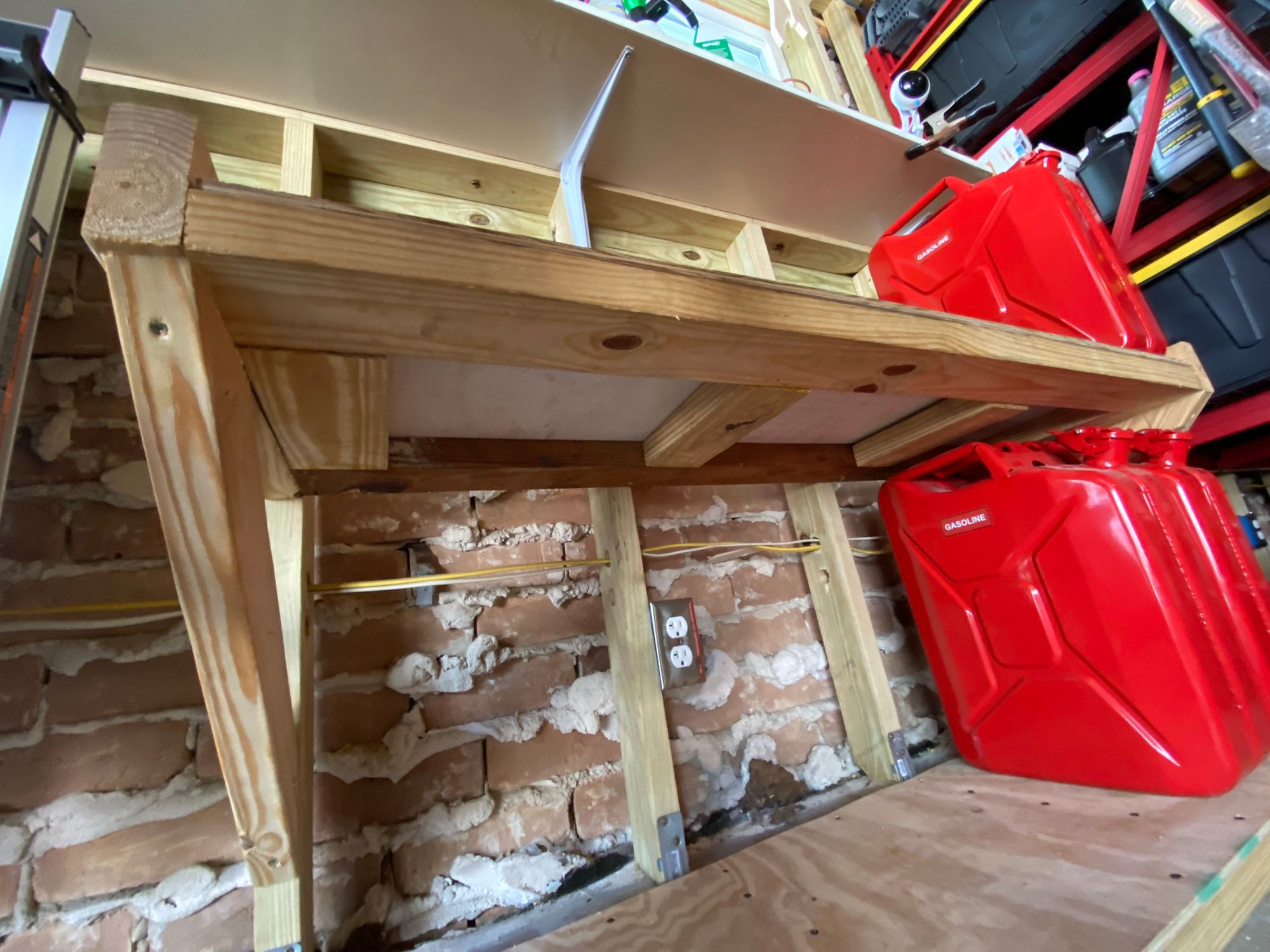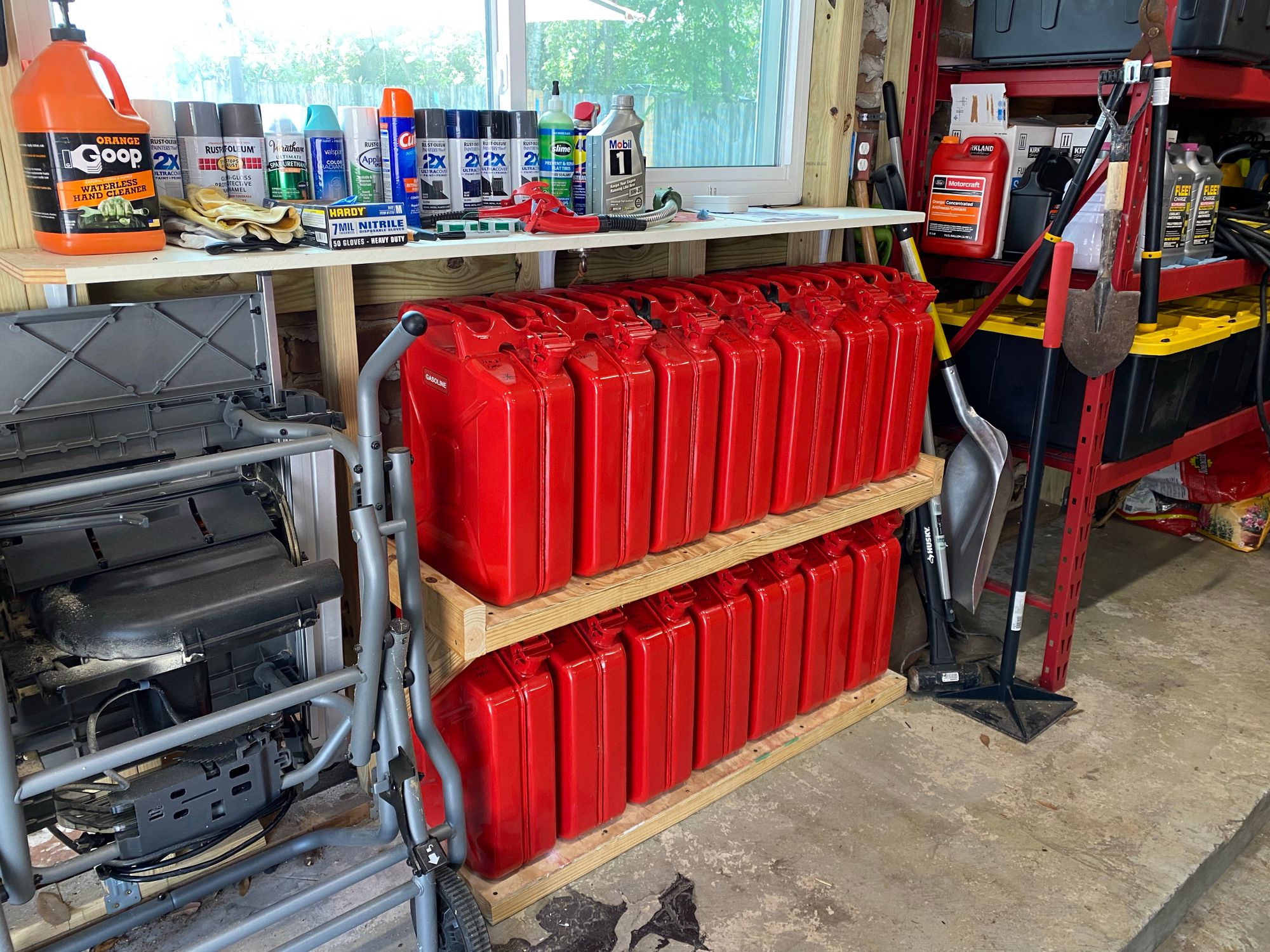 I just write the date on them with a sharpie, and move the oldest to the left.
I also got this AA powered transfer pump, which makes moving gas around very easy
Here is a link to the pump. I got recommended it by James Condon on YouTube who repairs generators (https://www.youtube.com/user/jcondon2007)

Thats all! Let me know if anyone has any questions